Before we run this blog entry, let me first announce one awesome thing:? Wendi and Kdcat are back home now!!? Yep, the trip is now officially over, and was a HUGE success. Not only did our fearless raw travelers identify Pure Jeevan's soon-to-be new home town -- Portland, Oregon! -- but Wendi and KDcat also met and made friends with hundreds of people from around the country. I'm sure Wendi will be back here on the blog with overall reflections and so forth soon. However, the trip generated so much content that it's going to take a while to catch up!? So, let's pick up with the travel narrative where we last left off. As you may recall, the girls were leaving San Luis Obispo and heading into sunny Los Angeles! Let's see what Wendi had to say, again with her travelogue: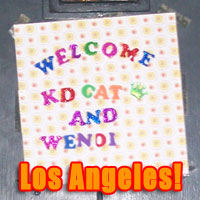 Wow, it's finally looking like CA with all the palm trees! After hitting and dealing with some major traffic of a large city, we arrived to the warmest welcome at the home of Debbie Young (of DebbieDoesRaw) -- a decorative greeting waiting on the door, gift bags handed to us as we walked inside, loving hugs and smiles, and the most amazing raw meal ever (samosas!, chai, pineapple lassi, mango chutney, tamarind chutney, biscotti cookies), and a snack basket waiting in our private apartment! At this stop, we were totally spoiled by Debbie and her beautiful family!
This is one of the stops I was really looking forward to, because Debbie and I have been online friends for a long time. We were able to spend a short amount of time together at the Raw Spirit Festival in 2008, and I loved her and wanted to spend more time with her and meet her lovely family in person (including their adorable dog, Malcolm).
Debbie, Sam, KDcat, and I met some other raw foodies at CRU, a raw food restaurant here in L.A., and had a nice time talking and taking lots of pics of the food. When we returned to Debbie's place, she served us some divine cacao truffles while I chatted with her talented, creative husband, Warner, who has an awesome job where he's able to work a bit on promotional merchandise for movies like Twilight! I was all fan-girl, giggling and swooning, as he shared some vampire and werewolf goods with me! That evening, KDcat, Sam, and Malcolm had fun together while Debbie and I video chatted online with Jim before bed.
In the morning, Debbie greeted me with an AMAZINGLY energizing fresh juice, and then we headed out to see some L.A. sights. Naturally, we visited the beach (where KDcat stepped into the ocean), walked the boardwalk, saw a famous carousel where I got a gypsy fortune [see photoset] that told me I shouldn't travel. We then walked to a shopping area called the promenade, and checked out some shops there.
We also walked to another well-known raw food destination, Juliano's restaurant. However, much like my visit to CRU, I was disappointed by the level of service and friendliness of the staff. I began to wonder: Is there a raw restaurant in Los Angeles that has a loving raw vibe like I've experienced in just about every other city I've ever visited
The answer to this question came later when we drove to Matt Amsden's Rawvolution restaurant. Kdcat and I were very impressed with the restaurant, the quality of the food, the friendliness of the staff, and the comfortable ambience. If anyone's visiting L.A. and can visit only one raw restaurant, Rawvolution would be my recommendation.
While there, we happened to meet some nice raw foodies who agreed to be part of a quick video for the Pure Jeevan blog. In the video are Elaina Love of PureJoyLivingFoods.com, Chris Whitcoe, owner of Vivapura, and Orion Solarian.
We left the restaurant a little bit late, and I was able to experience true L.A. traffic. When we returned home, KDcat got a hair trim from Debbie, who is an amazing raw beautician. (If you're in the area and want a cut/style, be sure to connect with Debbie!)
Debbie continued to spoil us during our entire visit. Every morning, we were treated to fresh juice and some awesome raw nut milk, granola, fresh fruit, chai tea, and even cooked pancakes for KDcat. Our Pure Jeevan family members send a lot of emails asking me for suggestions about eating/serving raw breakfast foods. Well, Debbie sure knows how to do it, so I've asked her to consider creating a Makin' It Monday video showing everyone how she prepares the milks she serves with her homemade granola and fresh fruit. She'll show everyone how easy it is to prepare and store the milks for an easy morning breakfast! It was a real treat, since we're mostly used to having simple fruit or a blended fruit smoothie.
KDcat had a lot of fun in L.A. She walked to school in the morning with Sam, Debbie, and Malcolm, and she thoroughly enjoyed playing with Warner's many musical instruments. She enjoyed the Young family as much as I did. In fact, we loved them so much we felt the earth move (LITERALLY! We experienced our very first earthquake -- small enough to not terrify us, but large enough to have said we were in one).
Before leaving L.A. we did some thinking about our next few days. We wanted some quiet time to just chill, with less packing/unpacking. So, we decided to head to a great deal Jim found for us in Las Vegas, NV. He said since the economy is down a bit, there are some great deals there. So, he found a resort where we could chill for a few days -- one that has a full apartment with a refrigerator and blender (!), at about half the cost of a normal hotel room anywhere else in the country! What a sweet deal!
It wasn't easy leaving L.A. We totally love the Young family who showered us with love, attention, gifts, and lasting friendship. Debbie made sure we experienced just about everythign that LA offers...ocean, sunshine, walking the boardwalk, shopping, raw restaurants, earthquake, etc. The only thing I didn't experience was a star sighting...but, I joked that I'd only want to see Johnny Depp and he was most likely out of the state or else she'd somehow have managed to have me experience that, as well! We felt loved and extra special.
Once again, we d love to thank our generous trip snack sponsor, Natural Zing, for helping us to make this possible on our budget!
Original Comments
Below, we have included the original comments from this blog post. Additional comments may be made via Facebook, below.
On April 5, 2010, debbiedoesraw wrote:
OMG Thanks for all the LOVE!!!!!!!! We all loved having you guys here. I am so glad you enjoyed your LA time.. boy you got it all in!
Love love love!
so happy to hear that your house is going to be featured in that mag, all fingers and toes crossed for you being Portand bound asap!
come back soon!
love deb and sam, warner and malcolm the wonder dog :)
On April 5, 2010, debbiedoesraw wrote:
oh BTW we are editing the Making it Monday tape.. filmed on Location in Honolulu!!!
xooxo deb xoxoxoxo
aka The Spoiler!
On April 5, 2010, Rachel V wrote:
I am sooo jealous that debbie made you juice!
On April 5, 2010, bitt wrote:
I too found Juliano's staff to be a bit standoffish. Rawvelution was my favorite too! Looks like Debbie is a great host. Maybe she will open a raw B and B?
On April 5, 2010, debbiedoesraw wrote:
Hey Bitt
Now THERE is a great idea! if our house was bigger!
come see us next time you are in LA!
deb
On April 6, 2010, rubyvroom wrote:
I was so excited and eager to see/read/watch the LA update!! I adore Debbie and it sounds like she totally rolled out the raw red carpet for you all! She is completely spectacular! What fun you all had.....loved the story, pics and the video! I even friend requested the groovy kale lovin' Orion on Facebook just now (already friends with the others!) I like Bitt's idea about the Raw B & B...I seriously hope that idea will catch on around the country.....how cool would that be

Love you all!!
Penni
On April 6, 2010, debbiedoesraw wrote:
Penni ! Come stay at our Raw B and B any old time! we'll leave the light on..
Love you!
deb
On April 6, 2010, Tina wrote:
Sounds like a fabulous time! I would LOVE to do this trip and see lovely Debbie and crew! What a great trip journal - thanks so much for sharing...

Hugs, Tina
On April 6, 2010, tinaintheraw wrote:
that last comment was from me....DISQUS wouldn't let me sign in!! all good now!

Hugs....
On April 7, 2010, debbiedoesraw wrote:
come on down Tina! We would love to see you!
deb xo