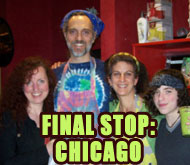 Here it is, the final stop along our 40-day cross-country tour, Chicago, IL, before returning home to Jim! It's been an incredible time, meeting so many wonderful people, seeing so much natural beauty across the country, deciding where we'll relocate once our home sells, tasting incredible raw foods along the way, and spreading the word about the raw food lifestyle whenever an opportunity presented itself!
Below you'll find the final notes I wrote about our tour, along with some videos and pictures of our final stop in Chicago, Illinois.
We definitely arrived in Chicago refreshed and ready for some adventures. So, we headed directly downtown to search out a new raw food restaurant that our friends Kathy and Danny Living had mentioned to us.
RAW, the newly opened restaurant by Polly Gaza and Carole Jones, is situated inside the Ogilvie Train Station in a recently constructed French Market food court. When we figured out how to get into the market, we were impressed. It's a nice concept and has a fun feeling to it, just strolling along a market place (all while inside a large building housing a train station) that seemed as though it was almost outdoors. When we found the new RAW restaurant, we were thrilled. The colors, decorations, and displays were all very well done. We had to wait a while to talk with the owners, since the restaurant was doing some great business when we arrived. You can see a video we took of the owners, below, and find out more about the restaurant on their web site: Chicago Raw Food. The video was edited down because the sound quality wasn't very good, but you'll hear some inspiring thoughts from Carole about manifesting your dreams and how she and Polly simply manifested the restaurant by beginning with their thoughts. Carole advises: Live Your Passions!
After leaving the restaurant, we headed straight to Borrowed Earth Cafe to visit with our friends Kathy and Danny Living. For those of you who don't already know them, Kathy and Danny are incredibly loving people who are down to earth and doing some incredible things with their lives (manifesting along the same lines that Carole touches on in the video, above, and also inspiring others along the way to live their dreams and treat the planet with kindness). We first met Danny and Kathy last year during a visit to Chicago, and we immediately loved them. If we hadn't met them last year, our route back home during this tour wouldn't have included a stop in Chicago. However, we did meet them and I wanted to spend more time with them so a stop in Chicago was added to our trip itinerary. I love their energy, their soft and gentle loving nature, and to top it off the raw foods they serve in their Borrwed Earth Cafe are delicious. So, KDcat and I were looking forward to spending time with them again (and Jim was sad to miss out on seeing them this time).
When I told Danny and Kathy that we were coming in for a visit during our tour, they asked if we'd be interested in talking to their raw food meetup group. We agreed, of course, and they introduced us to David Hanley, a member of their large group. David hosted us for our stay in Chicago and we had a nice time getting to know him. He's into stairclimb racing, yoga, software development, loves fixing homes (like Jim does), raw foods, and so much more. In his home, David has a massage chair that KDcat really enjoyed a lot. David drove us to our talk at the meetup, where we met with even more incredible people. It was a large group, so we met at a Whole Foods meeting room not very far from the cafe. There were a lot of questions from those attending the talk, which I always enjoy. It's nice to meet so many people who are interested in learning a about ways they can improve their health.
That evening, we shared with David the generous amounts of raw foods that Kathy and Danny had sent home with us for the evening. We enjoyed things like Borrowed Earth's World Famous Salad, Burrito Loco, Sweet Potato Quesadilla, a green smoothie, some cheese cake, and the most incredible raw apple pie I've ever tasted. I'm not kidding about that statement, either. I used to consider myself queen of the apple pie back when I baked my foods, and this raw apple pie that Kathy and Danny have created was even more delicious than my best baked apple pie. If you don't believe me, it's worth a trip to Chicago just to check it out! Absolutely DELICIOUS! Maybe if enough people ask, Kathy and Danny will share the recipe with all of you through one of our special guest chef editions of Makin' It Monday!
Before leaving Chicago and heading toward home, we stopped by Borrowed Earth Cafe once more to spend a little extra time with Kathy and Danny. We had great fun together and as much as KDcat and I were looking forward to being with Jim again, we wished we had more time to spend with Kathy and Danny. While there, we talked a lot about the power of intention and creating our futures. Danny also brought out some tuning forks and balanced my energy using them. Let me tell you, that was some powerful healing he was doing. After he was done, I felt euphoric and grounded all at the same time. I was filled with even more love than I normally feel flowing within and without my body. Wow! When I told Jim about it, we agreed that we'd like to learn more about tuning forks, too.
Danny and Kathy are always a wealth of knowledge and inspiration and I was sad to leave their company. Before going, they sent us out the door with even more delicious raw foods to feed us until we returned home. There was even some leftover to share with Jim when we arrived home the following evening!
Below, you'll see a video we took while visiting Borrowed Earth Cafe last year during our visit to Chicago. You can see in this video how incredibly sweet Kathy and Danny are, but you can tell even better by meeting them in person, yourself. If you're in the Chicago, IL, area, be sure to stop by and introduce yourself to them!
So, that ends our tour! After Chicago we headed back to Pittsburgh to be reunited with Jim. The next time we cross the country, we'll be doing it together as a family. Being apart like we did it this time (which was necessary for budgetary reasons) took away from some of the fun we could have all experienced together.
Again, it was such a joy meeting so many of you as we visited different cities and states. Thanks, again, to everyone who hosted us and showed us a great time in your little part of the country! It's a trip we'll never forget, and one that will always bring fond memories to mind.
Lots of love to all of you,
Wendi
XOXOXO
p.s. Don't forget to show support of our Trip Snack Sponsor, Natural Zing, who made the snack portion of this trip possible! Thanks, again, Helen and Jeff! We love you both!
We hope you ll check out our generous snack sponsor for the trip, Natural Zing, who made our travels extra enjoyable! They have the best selection of raw food snacks, supplies, and appliances for a raw food lifestyle!