Today we welcome Leela Mata from the Peaceful Valley Ashram (www.LeelaMata.com) for another episode of Pure Jeevan's Makin' It Monday "Guest Raw Chef" edition. In this episode, Leela demonstrates how to make a delicious summertime chutney.
Since Marigolds are seasonal, and likely available only in certain areas, please consider them optional. Perhaps substitute another edible flower of your choice (and let us know if you do!). Aside from making this tasty recipe (which we later enjoyed on a salad), Leela also makes some important points about intuitive eating and intuitive recipe creation. Here's the vid:
Mint Marigold Chutney
1 cup fresh mint, packed
3/4 - 1 cup water
3/4 cup spring onions and chives
~1 Tablespoon olive oil
1/4 cup walnuts
1 lemon, flesh with rind removed
1 teaspoon salt
1/4 teaspoon paprika
1/8 teaspoon black pepper
1/4 teaspoon cumin seeds
Marigold flowers (optional)
Blend all ingredients in a blender, as shown. Then, sprinkle additional marigold flowers on top as a decorative element.
If you're new to this blog, you might want to check out the other posts we've done featuring the Peaceful Valley Ashram!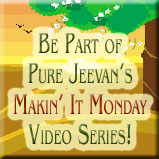 Want to Host a ?Guest Raw Chef? Edition of Makin? It Monday ?
??
We d love to have you do so! Just see this earlier post for the guidelines. We d love to feature you here on our blog, even if this is your first time wearing a raw chef hat!