Leaving Sin City, our fearless raw travelers headed south to Arizona for all sorts of raw food adventures. First up was a trip to Prescott Valley to meet Abi and Eli. Let's take a peek into Wendi's travelogue again, shall we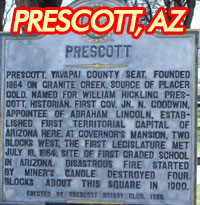 You probably haven't met our official tour guide yet. We call her Simone. She's a bit testy at times, but always gets us safely to our destination (although sometimes in rather roundabout ways). She added an extra one-time $89 fee to our trip budget, but we're very satisfied with her performance so far. You see, Simone is our trusty GPS unit!
Leaving Las Vegas, she guided us through the Hoover Dam area on our way to Arizona, a geographic area that I think would be better described as a "state of extremes." There, we experienced super hot, sunny days, freezing nights, snow outside even when it's sunny and hot, and also a bizarre experience we had in which some bananas actually froze and then nearly roasted all in the same day.
We had left some under-ripe bananas out in our car's back window overnight. In the morning, they were almost fully frozen. We took one bunch inside and made some smoothies with them. The other bunch I left in the window that day while we went out exploring. When we returned, the bananas were pure black ... and boiling hot! They had gone from freezing to burnt in no time ... WHOA!
By the way, we almost didn't make it to Abi and Eli's place. As you'll see in the following video clip, we first were blocked by an impassible flooded road, and then met with multiple blocked-off roads. However, after much difficulty (and likely confusing Simone's positronic brain -- because she insisted that a few roads we were traveling on did not exist!), we arrived at Abi and Eli's place.
In any case, we finally did arrive at our host's home, and had a great time. Prescott Valley is home to a good deal of beautiful open land, and was VERY windy!
Our raw foodie host Abi does bellydancing, designs/sews her own outfits, and also just graduated with an advanced degree in geology. She's sweet and has a nice accent, too! You can find her on Facebook at http://facebook.com/abigail.bull. Her partner, Eli, does amazing glass art, which you can see online here. He's also into growing his own food with some indoor garden areas he's been creating. They had some great, fresh well water in their home, which was super for us as our supply was dwindling fast. Abi helped me wash and fill the glass bottles we had been saving.
Abi and Eli made a delicious meal for us -- stuffed peppers with mole sauce, and an amazing guacamole. The next day we made some food for them and ?served it in some of Eli's beautiful handmade glass bowls.
We all went out for a picnic in a picturesque park, and sat and talked while KDcat hopped all around the rocks. Everyone climbed up the rocks a bit to take pictures ... beautiful! We sat in some indentations in the rock hills, saw cacti, saw a roadrunner in Abi and Eli's yard, saw a bunny in their yard, saw antelopes and geckos / lizards, too! Another wildlife highlight was hearing a very strange whooshing noise while up in the absolute silence of the mountains. I thought the sound was coming from a person at first, as the noise didn't sound like something you'd hear in nature. But, soon it grew louder and an enormous raven whooshed past us -- what a sight!
We visited downtown Prescott, a small, but cute, town featuring breathtaking views, a lot of great artisans, and, as Eli pointed out, many white fluffy dogs out that day (maybe black dogs are less popular in the hot Arizona sun ). We also visited a mining town called Jerome, which had some unique shops, overflowing with creative talent.
Before leaving, we were gifted a beautiful blue glass ornament from Eli and Abi as a keepsake! :-)
Next stop: Sedona!
We hope you ll check out our generous snack sponsor for the trip, Natural Zing, who made our travels extra enjoyable! They have the best selection of raw food snacks, supplies, and appliances for a raw food lifestyle!