There's an old saying that "What Happens in Vegas, Stays in Vegas." But we're not ones for keeping secrets. So, here's the low-down on Wendi and KDcat's time in Sin City -- straight from Wendi's travelogue, once again!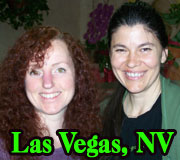 We drove to Las Vegas from California, and loved seeing the change as our surroundings became a desert. The snow-capped mountains are such a beautiful contrast in CA, but especially here in Nevada where it's so dry and hot!
This stop was longer than expected, since we decided to change our schedule a bit in order to get some more relaxing time in--and also to allow KDcat to have some fun that didn't involve raw foods or Pure Jeevan activity. ?We decided to hold off on visiting a date farm and the grand canyon (two activities we'd had planned for this leg of the trip) until Jim could do those things with us as a family. We especially missed him during this part of the trip, because he's always wanted to see what Vegas is like in person.
It's definitely sunnier and hotter here. It's strange to see a city built up in the middle of the desert. This is our resting spot ... the place where we'll chill out a bit, do some things that KDcat will enjoy, and try to catch up with files to upload to Jim for the blog. Some initial observations about Las Vegas:
Like New York City, this is another city that never sleeps!
Regarding the nickname "Sin City" ... oh, my! ?We saw more things than I wanted to see, and I'm glad KDcat wasn't any younger!
Be prepared to exercise while in Vegas. We got quite a lot! ?We did 11 hours of nonstop walking while here! (Recall that part where I mentioned that we had decided that Vegas would be our special city for *relaxing* )
We planned for a full day of walking around, so we packed some salads, glass bottles of spring water, and raw snacks from our lovely tour snack sponsors,
Natural Zing
! We stayed out much later than expected (well past my bedtime) and our food supply was exhausted. So, I did the best I could to have energy to get back to the car (which was parked over 1.5 miles away). Fortunately, I found a Mexican restaurant that offered fresh guacamole. It wasn't great, but I was able to power it out. [Note from Jim: ?Mexican restaurants are decent "emergency" places to stop for raw foodies because, quite often, the nicer places make fresh guacamole and salsa -- and they all have lettuce -- which together can make for a nice salad.]
While walking around, we visited a wax museum (our only splurge for something to do). I only decided to splurge because, in the brochure, they showed a picture of Johnny Depp. I wanted to see how "real" these wax figures were! *giggles* [See photo set below for Wendi finally meeting her Johnny.]
It wasn't the most ideal time to visit Las Vegas, because the streets were lined with lots of drunken people celebrating St. Patrick's day. It was kind of amusing at times, but the stench from all of the alcohol was a little overwhelming to my senses.
Speaking of overwhelming, the air quality was horrible. It's tough to believe, but there are probably more smokers here than in Pittsburgh!
Naturally, we also visited the
Go Raw Cafe
, and of course interviewed one of the co-owners, Lu, who gifted us a meal and some of her packaged snacks (I had the burger with the award winning NV salad, which was good. KDcat had some food from the salad bar and some coconut water). [Here's the interview with Lu:]


While at Go Raw Cafe, we bought some sweet raw snacks for the rest of our trip back home. Lu was really nice and generous.
We stayed at an awesome hotel/resort called Cancun. Jim was able to get a special deal online. For $65/night, we got a spectacular room with its own kitchen and even a blender (which came in handy, as we shopped for most of our own foor at the local Whole Foods). Surely it's not always that inexpensive. Must've been a special mid-week deal!
On our final evening, there was a beautiful, windy storm. It never rained, but it sure seemed like there was going to be a downpour. The sunset was gorgeous when the sky cleared a bit for us to see it.
Next stop: Arizona!!
We hope you'll check out our generous snack sponsor for the trip, Natural Zing, who made our travels extra enjoyable! They have the best selection of raw food snacks, supplies, and appliances for a raw food lifestyle!
Original Comments
Below, we have included the original comments from this blog post. Additional comments may be made via Facebook, below.
On April 7, 2010, TerriDactyl wrote:
Oh wow! The raw food world is a small world. We can actually get Go Raw snacks in Albuquerque somewhere. My cousin Michael brought me some Go Raw snacks when I first decided to go raw, and I loved them. Some spirolina chips and Chocolate cookies. So I went online to www.goraw.com and ordered a sample pack of the bars and they were so good. I loved just having one in my purse in case of emergency. It didn't take much for me to consider it an emergency - I ate those things up!

Love being with you on your journey,

Terri