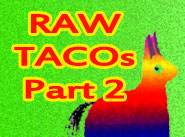 Continuing with our Taco Week, here's a quick and easy (and delicious) salsa recipe. You can really have a lot of fun with salsa, and can get highly experimental if you like. Almost anything tastes great in salsa. This one is fairly basic, so feel free to spruce it up with some of your favorite ingredients. Let us know in the comments section some of your favorite variations so you may inspire others!
Raw Salsa Recipe
4 med tomatoes, chopped
1 Tbsp. lemon juice
1/2 cup lightly packed fresh cilantro
1 tsp. salt
1 tsp. ground coriander
1/2 tsp. ground cumin
2 scallions
optional: fresh garlic, onion, chilis, cayenne, etc.
Pulse in food processor until "meaty" consistency is obtained. Set aside in a serving bowl for the taco dinner!