Last time on Raw Foods 101 we answered the question, "Why should you soak nuts / seeds before eating them."? Naturally, many readers then asked the next logical question, "How LONG should I soak them before eating " Great question!
Don't forget:? You're soaking the nuts and seeds to "wake them up" as would happen in nature. When seeds are soaked in the springtime rain, they wake up and begin to sprout. When this happens, the nutritional content of the nuts and seeds changes (they become an even greater powerhouse of nutrients).
Be sure to soak nuts and seeds in purified water, and thoroughly rinse after soaking.? Below is a basic chart that covers most nuts and seeds.Make sure that you are purchasing raw, unroasted, unsalted nuts and seeds (organic is best, of course). Enjoy!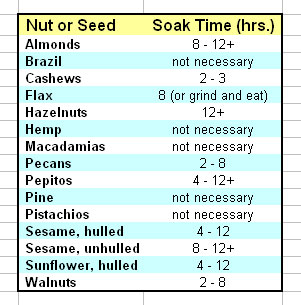 We have a large list of upcoming topics for the Raw Foods 101 series. However, if there is something specific that you would like us to cover, please let us know in the comments and we'll be sure to include it in an upcoming post.
Original Comments
Below, we have included the original comments from this blog post. Additional comments may be made via Facebook, below.
On October 8, 2009, Rubarb wrote:
This is very helpful. Thanks!
On October 9, 2009, ingrid wrote:
Raw food 101! With that course under our belts we can change the world. Thanks for the education and the hard work on your site. I refer to it on a daily basis. You rock!
On October 9, 2009, Roxanne wrote:
Thank you for this!
On October 10, 2009, jerrilynne wrote:
Good to know!
On November 12, 2009, smita wrote:
thank you!! I've been looking for something like this for the longest time!