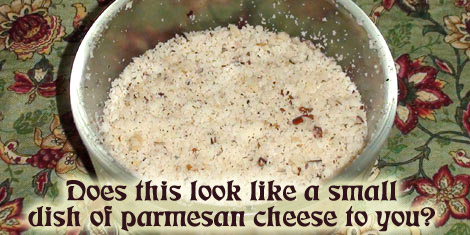 Back when we ate cooked foods (especially way back when our menu was not exclusively vegan), parmesan cheese seemed to be a staple of our existence (especially for Jim). We'd sprinkle it liberally on pasta dishes, salads, soups, and more.
As is typical for many raw foodies, you often realize after going raw that it was not always necessarily the food itself that you craved (no matter what it was); often it was simply the texture, the spices, the various flavors and tastes, etc. And that realization leads raw chefs to wonder whether the same experience can be recreated using only raw ingredients.
The good news for parmesan cheese lovers is that, yes, you can pretty much make your own raw vegan parmesan cheese that tastes comparable to store-bought traditional cheese. Now, it may not taste and "behave" the same as freshly grated parmesan (you know, the kind that cost about $15/pound from the deli section). But, it definitely tastes and behaves exactly the same as that wonderful "pizza shop" parmesan.
You know the kind we mean, right ? Here in the northeastern U.S., many pizza restaurants have those little cheese shakers right there on the counter. Or, if you've ever bought the canned parmesan cheeses, such as the Kraft brand, that's what we mean.
Anyway, the recipe is so ridiculously simple, you won't believe it:
>> Blend up some raw Brazil nuts in your Vitamix. <<
Yep, that's about it!? That's all that's pictured above!? You can also spice things up a little bit for a fancier blend and a more authentic parmesan taste. To do this, just add some garlic powder, salt, and some Italian seasoning as you blend it.
Either way, be sure to use a dry container when you begin. Also, keep in mind that you may have to stop the Vitamix every so often and insert a spatula to scrape the nuts from the sides during the process. It'll usually "cake up" in there as it's going. But, it's easily removed with your spatula and naturally returns to a crumbly parmesan consistency.
Brazil Nut Nutrition
One of the amazing things about this is that, unlike real parmesan cheese, this topping is actually VERY healthy! Here's a snippet from the Wiki page on Brazils:
Brazil nuts are 18% protein, 13% carbohydrates, and 69% fat. The fat breakdown is roughly 25% saturated, 41% monounsaturated, and 34% polyunsaturated. The saturated content of Brazil nuts is among the highest of all nuts, surpassing macadamia nuts, which are primarily monounsaturated fat, and the nuts are pressed for their oil. Because of the resulting rich taste, Brazil nuts can often substitute for macadamia nuts or even coconut in recipes. Also due to their high polyunsaturated fat content, primarily omega-6, shelled Brazil nuts soon become rancid. [*Pure Jeevan note: So, store them in your refridgerator!] ?... Nutritionally, Brazil nuts are a good source of magnesium and thiamine, and are perhaps the richest dietary source of selenium, containing as much as 1180% of the USRDA.
Sourcing Truly Raw Brazils
Sourcing truly raw Brazil nuts can be a little tricky. Our local co-op had Brazils, but we didn't think they were truly raw. So, we began sourcing them online. You can find them at Natural Zing for about $9/pound on sale. See:
http://tinyurl.com/RawBrazil? (Incidentally, the text describing Brazil nuts over at Natural Zing is extremely interesting. There, you can read how Brazils are "one the few positive bottom-line economic examples where the density of a renewable natural resource other than timber is sufficient to justify the existence of large forested areas against unsustainable uses such as cattle ranching.")
If you're making a salad for your family, you can usually get enough parmesan out of just a small handful of Brazil nuts. Or, do as we did and blend up a half-cup or so and keep in the refridgerator for handy, quick access. Jim used this recently, btw, to sprinkle atop some delicious raw pizza that Wendi made. (We took pics, but didn't post them yet!)
That's it for today. Tune back in tomorrow for an update on our first-ever batch of kimchi!? (Secretly, we tasted it already. But, we'll wait until tomorrow to reveal the results.)
Original Comments
Below, we have included the original comments from this blog post. Additional comments may be made via Facebook, below.
On October 1, 2009, Joanna_Steven wrote:
So, Wendi is feeling well enough to make raw pizza? Good news!
:)

I should try this. My hubby loves Brazils. I do too, but I love everything so it doesn't count ;) Thank you! I usually blend sesame seeds with nutri yeast, but then it's not all raw.
On October 1, 2009, Jim Dee wrote:
Wendi had two very good days a while back, so she supervised the making of raw pizza on one of them, with KDcat doing most of the work. She's not quite back to her raw cheffing mode yet... She's really spending all of her energy studying about Lyme and the various protocols to treat it.

BTW, I forgot to mention and just updated the post): Add garlic powder, italian seasoning, and SALT! (How could I forget salt ??!!! It's the primary taste in real parmesan cheese!) LOL...

-Jim
On October 14, 2009, tinaintheraw wrote:
brilliant...