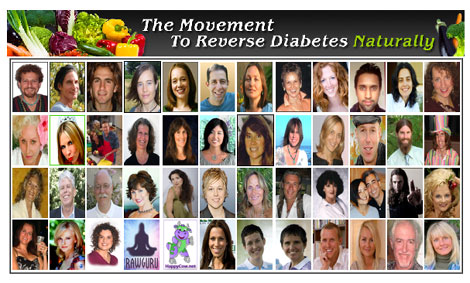 Wow, what an amazingly informative week here at Pure Jeevan. We've been featuring some great "My Raw Story" installments focusing on diabetes reversal via raw foods (and have more to come!). We've also been actively trying to encourage you to step forward and join the movement to reverse diabetes naturally.
Why are we dedicating an entire week to diabetes?
8% of the US population has diabetes. That s 23.6 million adults and children. 17.9 million are diagnosed. 5.7 are undiagnosed.
There are 57 million people with pre-diabetes in America. That s 19.3% of the population!
Heart Disease & Diabetes: Adults with diabetes have heart disease death rates about 2 to 4 times higher than adults without diabetes.
... and MANY more alarming statistics. See our diabetes page for more!
Many individuals have no idea that diabetes can not only be reversed via a raw food diet, but a person's life can be filled with health and vitality again. This Saturday, April 25 (Wendi's birthday!), is Reversing Diabetes Naturally Awareness Day. Together, we can spread this important and life-changing news.
Below are some materials and resources for any of you interested in joining the movement!
The Reversing Diabetes Naturally Community

Over at the Reversing Diabetes Naturally site, there is a growing community of individuals either working on reversing their own diabetes or supporting others in doing so. Follow this link and click on "r.d.n. community" at the top of the page if you'd like to join the community (which is free). Wendi is a strong supporter of this movement to reverse diabetes naturally, and she has joined the community (so be sure to add her as a friend if you join!).
As an incentive to purchase either or both of the films mentioned above, the Reversing Diabetes Naturally team has assembled an impressive amount of bonus materials for you.
Download of CD #1 and #2 from David Wolfe's "21 Days to Health Program" $39.00
The Entire "Detox and Rejuvination Guide" created by James Colquhuon and Laurentine ten Bosch $19.95
The Entire "Raw Success " book, written by Matt Monarch $15.95
"Kitchen Gadgets" 40 Minute Instructional Video by Chef Cherie Soria $14.99
The Entire "Revealing the Physical Changes" E-Book by Angela Stokes $19.95
Karen Knowler's "How to Get Started with Raw Foods" 161 Page E-Book $24.99
"How to Eat Uncommon Fruit" by Victoria Boutenko E-Book $14.95
Excerpt from "Terra Incognita," Wild Raw Vegan Poetry Book by Happy Oasis $4.95
"Ecstatics Anonymous" E-Book by Shazzie $14.95
"CD #1 and #5 of Nomi Shannon's 5 CD "21 Days to Better Health" Program $37.49
"The Raw Life: Becoming Natural in an Unnatural World" by Paul Nison $14.99
Jennifer Cornbleet's Favorite 5 Recipes from "Raw Food Made Easy" $4.99
The Winter e-Issue of "Delicious" Magazine by Publisher Rebecca Carlson $5.97
"Raw Foods 101" and "Raw Food Recipes" by Wendi Dee of Pure Jeevan $29.98
Chapter 1 from Dr. Gabriel Cousen's book "There is a Cure for Diabetes" $4.95
A One Month Raw Menu Planner by Tera Warner of The Raw Divas $14.99
Brenda Cobb's "Organic Raw and Living Food Recipes" $9.95
Excerpts from "The Raw Foods Bible" by Craig Sommers $4.99
"Senior Fitness" AudioBook by Dr. Ruth Heidrich with Steve Prussak of Raw Vegan Radio $9.99
Chapter 1 of Susan Schenk's book "The Live Food Factor" $4.95
"Power Breakfast Ideas" E-Book by Dr. Ritamarie Loscalzo $14.99
"How to Grow Your Own Sunflower Greens" by Raw Food Chefs Ronnie and Minh $4.99
"100 Days to 100% Raw" E-Book by Tonya Zavasta $12.95
"Revvellutionize Your Life In 30 Days" E-Book by Revvell Revati of Rawkin Radio $19.95
Audio Interview with Ani Phyo $4.99
Total Value of Bonuses Alone: $370.79!!! Click here to purchase either or both of the films to receive all of the above materials!
Materials to Hand Out and/or Hang Up
Finally, we want to let you know of a permanent addition to our Pure Jeevan web site -- a page devoted exclusively to reversing diabetes naturally. We will continue to build on the information presented on this page. So, if you have any information you feel we should add (facts, resources, etc.), please let us know. The page is:
http://www.purejeevan.com/diabetes
On that page, you will also find (on the right margin) some materials you may download and distribute to others who may benefit from this vital information.