Finally, some super news to share!? On Monday, after a l-o-n-g wait, Wendi finally had her appointment with a actual LLMD. (That stands for "Lyme Literate Medical Doctor."? If this and the news of Wendi's Lyme Disease is new to you, check out this post.)
I'll cut straight to the good part: Her prognosis is excellent! Yes, she's still in a world of pain and misery at the moment, but he believes (based on her blood work and her symptoms) that we've caught this early enought to fully eradicate the Lyme. (At least, that's how I understand it. I'm actually not clear on whether Lyme is ever 100% eradicated, or if it's just forced into dormancy or irrelevancy. Perhaps Wendi can clear that point up later.)
Naturally, the doctor wanted to know what brought her to him. So, she relayed the story of firing her other doctor, who did not believe her symptoms and refused to prescribe the medicine she needed. The funny thing is, this new doctor said, "That seems like a case of ego to me." I laughed when she told me that, as that's precisely how I read the situation, too. In fact, I wrote that exact opinion in our post on October 7!
He also asked her what she'd been doing on her own to treat the Lyme. She told him about the many alternative protocols, as well as "procuring" the doxycycline. He then asked her how much of the doxy she'd been taking. She told him and he immediately said, "Oh, well that's why you didn't heal completely; you simply weren't taking enough."
So, he upped her daily dose by 50% and gave her a month's prescription. This made sense to us. When we were "playing doctor" on our own, trying to determine what the proper dose should be, I suppose it's natural that we would err on the conservative side. So, instead of 200 mg/day (two doses of 100 mg), she'll now be on 300 mg/day (3 doses of the same pill) of doxycycline for at least one month (longer, likely).
We're not out of the woods yet, of course. She's still really, really sore. But, I can share with you that we do now finally have some real hope and envision a time not too far distant (perhaps within a month or so) when she can resume a more normal life.
One thing I've learned through this is that Lyme is nothing to toy with. If you suspect that you have it, you should take action as soon as possible. Unfortunately, it's not always easy to identify that Lyme is what's ailing you. (It commonly returns false negative tests, and can present itself as a number of other common conditions.)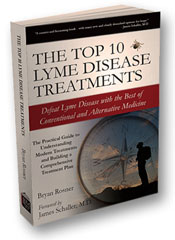 For anyone suffering from it now (or for anyone who finds this post in the future, I can tell you that the books I saw Wendi consulting with the most have been "The Top Ten Lyme Disease Treatments" by Bryan Rosner and "Healing Lyme: Natural Healing And Prevention of Lyme Borreliosis And Its Coinfections" by Stephen Harrod Buhner. You can find them both on Amazon or, probably, at your local library.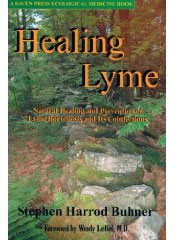 BTW, "Healing Lyme" author Stephem Buhner has a number of interesting books out. I picked up his "The Secret Teachings of Plants: The Intelligence of the Heart in the Direct Perception of Nature," which looks to be a fascinating read. Just upon flipping through it, a lot of what he's saying resonates with much of what I've read in other places about communicating with plants.
I remember a moment in Kevin Gianni's Rawkathon, for example, in which David Wolfe was talking about his relationship with plants. I can't recall the dialogue exactly right now, but I think Kevin somehow asked David about the first thing he does with respect to learning about plants, and David said something like, "I start by loving them." That's probably not an exact quote, but I think it captures the spirit of what was said. For anyone who kind of "gets" that way of thinking, I think this book "The Secret Teachings of Plants" would definitely be a good read for you. I'm very much looking forward to reading it.
Original Comments
Below, we have included the original comments from this blog post. Additional comments may be made via Facebook, below.
On October 20, 2009, JoAnn wrote:
Wendi.. Huggs.. I love this news.. :)

I happen to read this today.. thought I might share it You can investgate it.. but I just thought I would share it

IMMUNE SYSTEM:
> Daily use of honey and cinnamon powder strengthens the immune system and
> protects the body from bacteria and viral attacks. Scientists have found
> that honey has various vitamins and iron in=2 0large amounts. Constant
> use of Honey strengthens the white blood corpuscles to fight bacterial
> and viral diseases.
I love you and Will continue to keep you in daily prayrer.. :)
On October 20, 2009, debbiedoesraw wrote:
Yeah!! you found an actual healer, that is such an amazing blessing right there!
I hope that this month is one of healing and a new radiant Wendi emerges, ready to take on the world!
love to you all
deb
On October 20, 2009, Errigal_lass wrote:
Wonderful news! Thanks for sharing this, Jim! Wendi.......we are cheering for you all the way into recovery!

Love and blessings, Tracey
On October 21, 2009, sherylmiller wrote:
yippeee!
Gees I would love to read those books, to get books from over seas bypost is really expensive.
I am really excited that Wendi has found to beleive in, I just our family was closer so we could come and visit.
All the best and I look forward to hearing her soon!

Thanks Jim!
bye
sheryl canberra
australia
On October 21, 2009, tinaintheraw wrote:
YIPPEE!!!!!

Hey Jimbo....thanks for the update sweetie! I am so, so happy about the news!

How is your hula-hooping going

Hugs, Tina
On November 16, 2009, Jim Dee wrote:
Hi Lynn-

Your comment somehow wound up in our spam folder automatically (possibly because of the link ). However, I wanted to make sure to publish it because it's important for people to understand the difference between "advice" and "our reporting our own experiences." We're not in the business here of giving out medical advice. That disclaimer appears on every page of Pure Jeevan for a good reason. That said, though, we're definitely all about sharing our personal experiences. My mentioning those two books in no way is equivalent to my opinion that those two books are all any Lyme sufferer should read, or an endorsement of any one of the protocols highlighted to treat Lyme, or an opinion that there is a "cure" available via any of the protocols discussed. My intention was really more in general agreement with what you said -- that they are "excellent texts." If I have any official advice in there -- and, I don't believe you have to have personally dealt with Lyme to have a bit of knowledge about it -- it would simply be: Check out those books *along with* all of your other research and consultations with health care providers. Wendi is, in addition to reading those books and a TON of other material, under the care of a Lyme specialist (an M.D.). I've blogged about this before here -- and we're going to see him again, today, so I'll likely blog about it again. Hope that helps clear up any misunderstandings about that important issue. :-) -Jim
On November 20, 2009, (B)Beverly Houbein wrote:
Hi Again!

I wrote about curing Lyme disease in a years time using HCL. And I mentioned that I am in training. Well, the good news is, I mis-wrote. Depending on your body... you could be cured in 3 weeks by completely vegan means. Using HCL from Dr. Robert Marshall, whom also is a raw food-ist, and has already accomplished cure in others by his vegan HCL. Sorry for the previous mis information.
On January 17, 2010, Diet motivation – Latest Diet motivation news – Good News from Wendi's Lyme Doc wrote:
[...] Good News from Wendi's Lyme Doc [...]