Since Pure Jeevan specializes in raw food weight loss, we receive a lot of questions about what is required in order to lose excess weight. Many individuals want to know if they need to go on a 100% raw food diet in order to release excess weight.
The answer is, "No, you do not need to switch to a 100% raw food diet in order to lose weight." If you're asking if a 100% raw food diet works better for losing weight than slowly transitioning and increasing your raw food intake, the answer is still, "No."
What matters most for losing weight on the raw food diet is that you are changing your eating habits and substituting less healthy foods for healthy ones. Consistenly eliminating unhealthy foods and consuming fresh, water-rich raw foods is going to help your body become energized and flooded with the much needed vitamins and minerals that a cooked food diet is many times lacking.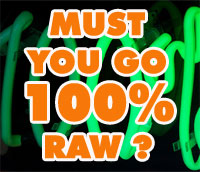 For many, going 100% raw is not an easy thing to do. If your personality is one where you enjoy jumping into extreme situations and challenging yourself to do something, then go for it! There have been others who have gone 100% raw overnight and have had great success with the diet and lifestyle. If you feel drawn to doing this, then go ahead and try it out. If it doesn't feel so great after a while, for whatever reason, you can always back off a bit and take things more slowly.
The vast majority of people entering the raw food lifestyle are going to slowly transition into a healthier way of eating and living. It's human nature to back away from pain and suffering, to find the easy way to accomplish a task. With slowly increasing the raw foods in your diet, and slowly transitioning away from the foods you know aren't healthy for your body, you will be taking the easier path.That's not to say that the change won't be difficult at times, since almost all changes in our lives come with a bit of difficulty to overcome.
Some individuals never desire to make it to 100% raw, and that's fine. For the vast majority of individuals, simply adding raw foods to the diet and slowly increasing the intake until you are eating about 80-85% of your meals raw is going to make all the difference in the world. There are a few of us out there, however, who do require a 100% raw food diet to feel completely well and vibrant, for a variety of reasons. If you're not sure what your body needs, work yourself up to high raw and stay there for a while. Then bump it up to 100% for a bit of time to see if you feel even better. Experimenting with what feels best for your own body is going to be the best way to know what works and doesn't work for you.
Be sure to acknowledge that you are doing something wonderful for your body in even considering a dietary change if you are overweight or unhealthy. Just thinking about making a change is a great first step! Whether you do it 100% or gradually make changes in your diet, we wish you much success on your raw food journey!
We'd love to hear how things are going for all of you who are already on your raw food journeys! Comment now to let us know what you're finding easy or hard with your journey, and whether you're trying 100% or gradually making the change.
_________________
Photo Credit: Photo by Jeremy Brooks (Flickr, Creative Commons)
Original Comments
Below, we have included the original comments from this blog post. Additional comments may be made via Facebook, below.
On June 26, 2011, sheryl miller wrote:
Thanks for the post/blog,
I am making the change slowly to more raw foods, it is winter in Australia and I like cooked warm foods for my tummy.
So slowly we are changing, warm foods etc at night time and raw in the day!
I will stick with this for awhile!
thanks
sheryl
canberra
australia
On June 27, 2011, Linda-Marie wrote:
I tried going 100% raw over night not really knowing what I got myself i to ;) Since I was already vegan I didn't think it would be such a big change. Oboy was I wrong! I changed strategy to a slow transitioning instead, and now I don't feel like I'm in total caos.
I have met some problems during my short (2 months now and still going) journey. First I realized I am deeper in the suggar-hell than I thought and the constant fight is tiresome. Second, and totally unexpected, the people around me started protesting against my new lifestyle. They worry about me not getting enough protein, vitamins, calories etc. I constantly have to defend myself and that is tiresome too. My husband has accepted my choices and my son is eating some of my food too wich I try to encourage as much as I can, so I am at peace at home atleast. But often I feel alone with my transitioning, then I turn to bloggs for company :)
Thank you for strength and support.
Love from Sweden
/Linda-Marie
On June 27, 2011, Wendi wrote:
Hi there, Sheryl!
That's a great idea to eat the cooked foods in the evening with the raw ones during the day! It's the first time I've heard of that idea. We try eating more warming spices with our raw foods during the winter (spicy peppers, garlic, cinnamon). I also tend to take warmer showers to warm my body up if I feel too cold--especially before bed so I can go to sleep feeling warm. ;-)
I hope it's a mild winter there for you!
Lots of love,
Wendi
XOXOXO
On June 27, 2011, Wendi wrote:
Linda-Marie! I'm so glad you found us and that you are relying on what we share to help you through this time of transitioning. We fully understand all of the things that are currently frustrating and tiresome for you, since we experienced them, as well. I think it's great that you are finding a way to stay encouraged through connecting online with others who are following a raw food lifestyle. That's great!!! It's also great that your husband and son are supportive at home!
Thanks for sharing and we wish you the best on your journey!
Lots of love to you,
Wendi
XOXOXO