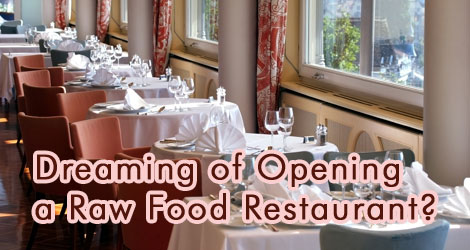 As raw foods enthusiasts for many years, Wendi and I have had the pleasure of patronizing raw food restaurants literally from coast to coast. Between us, we've been blessed to have sampled a more diverse spread of raw gourmet foods than have most people. (We hope that many others get to do this as well!)
From time to time in anyone's raw journey, it seems inevitable that thoughts crop up about opening a raw restaurant. For some, it's likely no more than a passing fantasy; for others, it may well become a firm business goal. We believe this is a fine and noble goal -- one that we'd like to see more people accomplish!
We realize that, as *patrons*, we're probably not exactly qualified to produce a thorough business plan for your consideration, specific to raw foods. But, we nonetheless have a few thoughts to share on the topic. (So, we welcome responses to today's and tomorrow's posts by any of our raw food restaurant owner friends!)
Fortunately, regardless of what niche a business ultimately establishes itself within, all of the standard rules and best practices of business planning, ownership, and operation also apply to raw. So, all of the general resources available online are recommended. But, specific to raw, here are a few additional considerations, presented in two parts.
These aren't meant as comprehensive or exhaustive, but we at least wanted to start the ball rolling with a solid half-dozen raw-specific business notes for consideration. Today, we'll provide 6 potential challenges you'll face versus cooked-food restaurants; tomorrow, we'll offer 6 potential advantages you'll enjoy over that group.
Part I: ?6 CHALLENGES You May Face When Opening a Raw Restaurant (not in any particular order)
Odd cooked food vs. raw food bureaucracy issues. The best way to explain this one is by relaying a story. For example, from what we've heard, having no plans for a stove doesn't necessarily mean that you won't have to have one. Same for a working/approved vent system. The reason for this is that the default rules for restaurant establishments have evolved for cooked-food restaurants. So, having no stove would be unheard of! Thus, in many cities, the rules won't say, "IF the restaurant has a stove, then this is how it should be." Rather, they may say, "The stove should be like this." The interpretation of that, by some health inspectors, could very well mean that you'll have to have a working stove. We would hope that there are workarounds for many of these types of peculiarities (it may not always be the stove that's a sticking point), but wanted to at least mention it here so that, if you're thinking of opening a raw restaurant, this can be one of your checklist items to discuss with local authorities prior to opening day.
More trips to / deliveries from food suppliers. Since raw food restaurants rely so heavily on fresh produce, it's probably impractical to store as much food as a cooked restaurant can. Most restaurants take regular deliveries, so this perhaps isn't a gigantic issue. But, on the other hand, it's probably a significant issue during your start-up phase as you learn the amount of food you need to have on hand. After all, if a higher percentage of your inventory is perishable, then this issue could literally make or break you!
Batch size differences. One would imagine a fairly large learning curve here. At many cooked restaurants, for example, this probably isn't critical. For example, if 50 people unexpectedly walk into a pasta joint and order spaghetti, most Italian restaurants could handle such an unforeseen rush. But, if you're a raw food restaurant offering, say, raw falafels -- each one requiring a dehydrated wrap that takes 8 hours in the Excalibur to prep -- well, how would you accommodate an unexpected rush? We'd guess you'd at least want a plan for this!
Increased costs for organics. Most people we know who are into raw foods are highly nutrition-savvy. And most people we know who are nutrition-savvy are strongly inclined to go organic. One challenge, we would imagine, is that prices can vary widely for these. Personally, we're much lower-end, lower-volume buyers. But, we do shop around locally to source our organics -- and the difference can be sizable to our family's budget depending on where we shop in a given week. So, we imagine that this can be even more pronounced of an issue for a restaurant, especially in light of the fact that most restaurant owners, raw or cooked, are probably too busy to actively shop around each week.
Marketing challenges. Let's face it: *We* know about raw foods, *you* know about raw foods, and many of our *friends* know about raw foods. But, aside from those circles, what level of knowledge does the average consumer have about raw foods? And, what might the steak-and-potatoes crowd think of the prospect of eating an uncooked meal? We think you'll have your work cut out for you in the marketing area. However, we're also confident in your creativity!
Pricing challenges. Most of the junk food in our culture is subsidized in some way -- sugar, factory-farmed dairy, factory-farmed meats, industrialized agriculture. Add to that additionally increased costs for going organic (as we discussed above), and it boils down to a higher price on the menu for a lot of things. It could even make some of your favorite raw food items almost impossible to offer at some appropriate balance of (1) value perception by your patrons, and (2) profitability for your enterprise. We're not here to solve this issue for you; rather, just to get your wheels spinning in advance on how you might mitigate these things.
We're sure there are other raw-specific challenges (and even had a few in mind). (And, by the way, we purposely refer to them as "challenges" instead of "disadvantages" or some other negative term.) But, thankfully, the success of many raw foods restaurants means that answers exist to these challenges.
Tomorrow, we're going to list 6 things that we imagine present wonderful advantages that raw foods restaurants have over their cooked counterparts!