On this page, we'd like to share some information about vegetable juicers. There are a number of different kinds, and we'll try to offer some background on many of the leading ones. We're affiliates for some, so if you're in the market for one of the ones we discuss, please follow the links we provide (or click the juicer pics) and you'll help support Pure Jeevan. But, either way, we certainly encourage you to consume fresh, delicious, nourishing veggie juices regularly!
The Jay Kordich Juicer -- The PowerGrind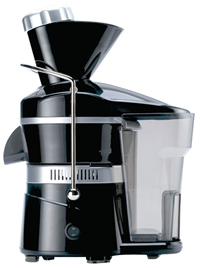 The PowerGrind Pro is a juicer put out by Jay Kordich, commonly known as the "father of juicing" by many in the raw food / living food world. In fact, our very first juicer was a "JuiceMan" model, purchased back in the early 1990s! But this is an entirely new machine, retooled from the ground up recently. At $289, it's a fairly high-end juicer (as compared with, say, department store models). However, it's certainly got the power and features to back up that level of investment. ?Head on over to the Jay Kordich web site for full details on the latest models.
The Hurom Slow Juicer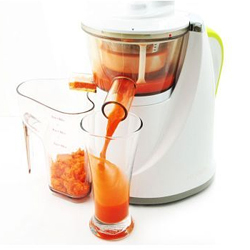 A year or two ago, when we still lived in Pittsburgh, we hosted the Monarch's (Matt & Angela) during one of their speaking tours. I remember Angela firing up their juicer in the morning and I thought (or possibly even said), "Wow, your juicer is broken!" I swore that something was wrong because it didn't sound like anything I'd heard before. But they then told us about what was then the newest juicer on the market -- the Hurom Slow juicer. It's garnered a lot of positive testimonials over the past few years, from quite a lot of juicing enthusiasts. While many of the features are nice, we imagine the the most important potential benefit would be the slower speed, which theoretically means less oxidation, less processing, and thus healthier juice. If we were in the market today, I've no doubt we'd try one of these, too (even at $359)! These juicers are available through our good friends at Natural Zing!
The Champion Juicer
Ahh, yes, this is the juicer that WE use regularly here at Pure Jeevan. It's $259 at Natural Zing -- ?so a bit less $$$ than the others discussed thus far, but by no means "cheaper." In fact, a Champion is a *heavy duty* piece of equipment. They're HEAVY! And, they're work horses. We've had ours for at least a decade, with zero troubles. And, Jeff Rose of Natural Zing has had one since 1987, also with no trouble. Champion is to juicers what Vita-Mix is to blenders. While it's great for juicing veggies and fruits, it's also wonderful for making nut butters. And, if you're new to raw foods or an old pro, you'll adore the raw ice creams you can make with this thing. Just run some frozen bananas through the feeder, and maybe a few berries, and you'll get the healthiest, most delicious dessert you ever tried -- guilt free! ?Like a few of the others here, these amazing juicers are available through our good friends at Natural Zing!
The $2,500+ Model
The Norwalk Juicer got its name from its inventor, Norman Walker, one of the early pioneers of raw foodism. Unlike the other juicers profiled above, this one works by sheer force, crushing the foods with many tons of pressure to produce the juice -- rendering, technically speaking, the highest quality juice. For sure, it's a powerful appliance. But, in terms of both practicality and stories of regaining health and vitality via juicing, one could easily argue that it's not necessary to spend $2,500. In fact, we would wager that one could regain health and vitality (via a juicing program) using even the cheapest department store juicer one could find. Yet, we routinely recommend the models referred to above (Champion, Hurom, etc.) because they represent the optimal combination of practicality and durability. Still, if you've got $2,500 to spend, well, it would be nice to add this to your health tool box!