Welcome to Day One of "Dressings Week" here on Pure Jeevan. After finding out that KDcat took it upon herself to film a segment of "Makin' It Monday, Guest Raw Chef Edition," I decided that we should probably spend an entire *week* focusing on salad dressings.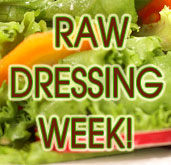 Let's face it; raw foodists really do eat a LOT of salads! I suspect that, especially early on in most people's raw journey, the dressing is critical. For example, while transitioning, I *always* needed a salad dressing -- even if it was just vinegar and oil. Over time, I scaled my dressing preference down to just a little fresh lemon juice. And nowadays, I rarely use any kind of dressing at all. But back then, a nice gourmet dressing was a real treat -- and hey, I still love nice salad dressings from time to time (again, usually as a special treat).
So, let's take a look at KDcat's culinary creation:
Orange Pepper Cilantro Dressing
1.5 yellow peppers
1 orange, peeled
1 handful fresh cilantro
agave nectar (abt. 3 tsp.)
cayenne pepper, to taste
1/2 lemon
Pulse all ingredients in a food processor until a thick dressing consistency is created. If desired, finish with a little Nama shoyu or some salt. Delicious!
[ Just wanted to note for any eagle-eyed viewers out there. The supplements you see in the background of KDcat's video are Fish Oil capsules. They're for our dog, Julia. :-) ]
This should be a fun week. I think I'll do videos each night, even though it'll be tough to choose just four more salad dressings to highlight. I suspect we'll have to make Salad Dressing Week an occasional feature, as the possibilities are limitless!? As always, we'd love to feature YOU on a Makin' It Monday Guest Raw Chef Edition. For details on that, click here.
Original Comments
Below, we have included the original comments from this blog post. Additional comments may be made via Facebook, below.
On November 16, 2009, Chris wrote:
Cool! Love the ears KDcat :) That looks good, I'll definitely give it a try!
On November 16, 2009, Lizard wrote:
just so you know, there are 3 tsp in 1 tbsp. =)
On November 16, 2009, Rubarb wrote:
Great video! I'm going to try this recipe. Sounds delicious! Thanks for the demo!
On November 16, 2009, Bethany wrote:
I love KDkat's cat ears!
On November 17, 2009, Ruthann wrote:
I wonder how much hair went into the dressing. Gross.

Also, I would let the processor run to make it smoother and add some olive oil for smoothing it all out.
On November 17, 2009, Jim Dee wrote:
She's part cat, for sure. :-)
On November 17, 2009, Jim Dee wrote:
Yeah, funny... We started wth 2 tsp., then upped it for taste. That's why we wrote 3 tsp. instead of 1 Tbsp.
On November 17, 2009, Jim Dee wrote:
Will pass that along to KDcat! :-)
On November 17, 2009, Jim Dee wrote:
She used to wear a tail, too.