Today, we're going to show you haw to make some tasty brownies. Best of all, this recipe takes only a few minutes. Let's get to it!
First, throw a couple of big handfulls of raisins into your food processor.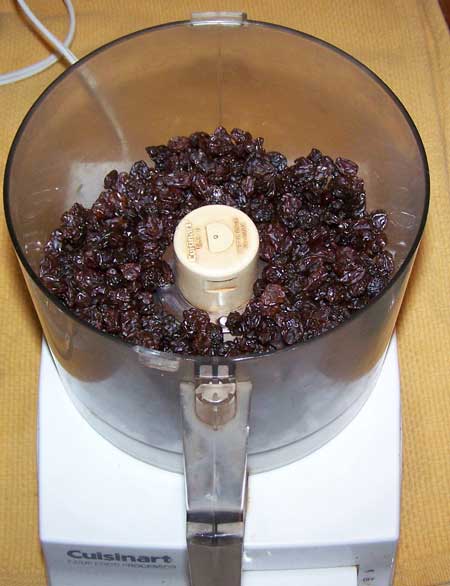 ?Next, toss in about a cup (or so) of raw walnuts: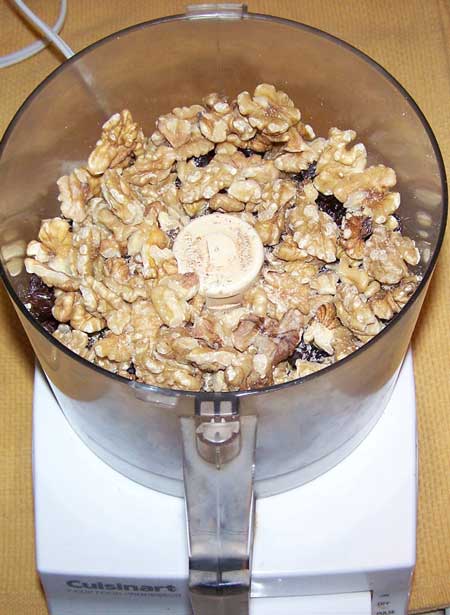 ?Then add some pecans if you have some. Maybe half a cup or so. (Obviously, precision is not the most important thing here!)
?Now you'll need to put in some raw agave nectar: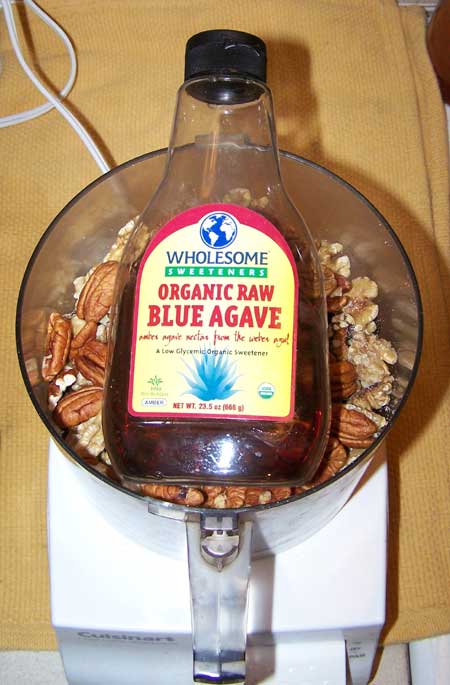 Not too much... Just give it a good solid drizzle, circling the food processor bowl five or six times. The purpose is not so much to add sweetness as it is to help these brownies stick together after processing.
Some other quite optional ingredients are shown below. For this particular batch, I'm using cinnamon, orange oil, and a dash of salt: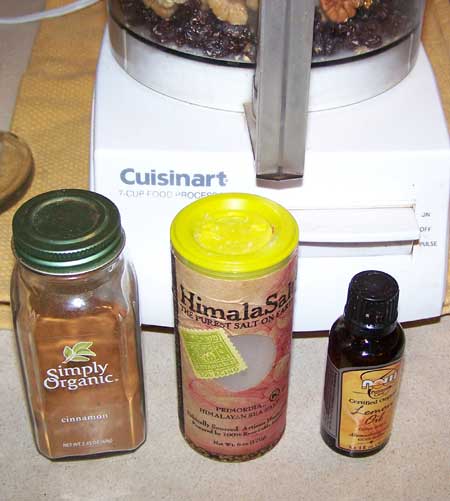 ?So, give it a healthy dose of cinnamon. Maybe a tablespoon or so.
?I also like to add raw carob. Here's a snapshot (although I'm not sure if you'll be able to see into the jar so well). I usually add about 2 tablespoons.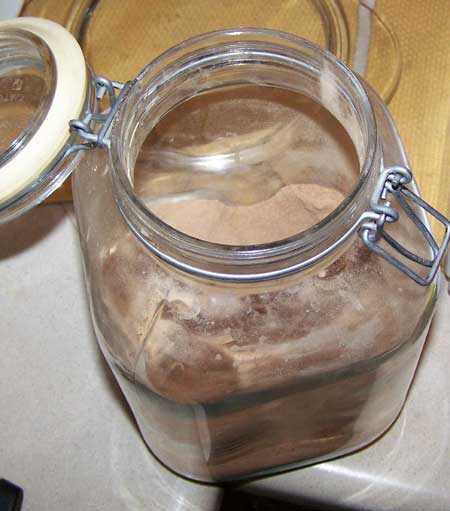 Here's a shot of the carob powder going in. It's tough to find raw carob powder, btw. Most stores have roasted, but we special order ours online.
Oops, I showed lemon oil, above, didn't I ? I meant to show the orange oil. Here it is!
?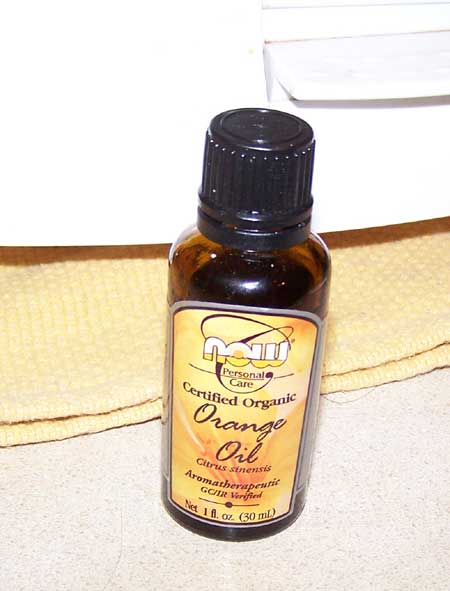 Now you want to process it for a few minutes. Add the oil as you're processing, as that seems to help it mix in better than adding it all at once. We've been experimenting with the oils. With something like peppermint, you can definitely taste it with as little as 4 drops. However, we've eaten these with as much as 15 drops. (Note:? When we use peppermint, we omit the cinnamon.) Here's what it looks like after processing:
?Now pour it all into a dish: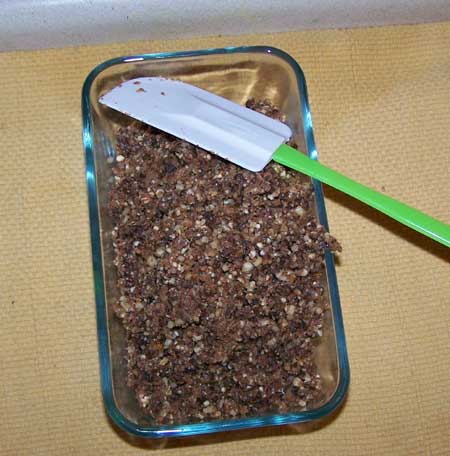 ?And then use your spatula (or another dish) to smash it all down.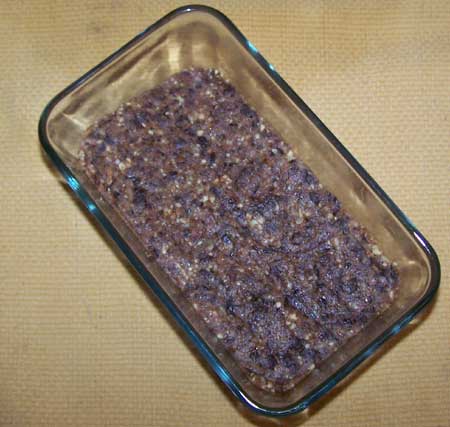 Then cut into brownie-sized pieces and enjoy!? They're rich and delicious. And very good for you!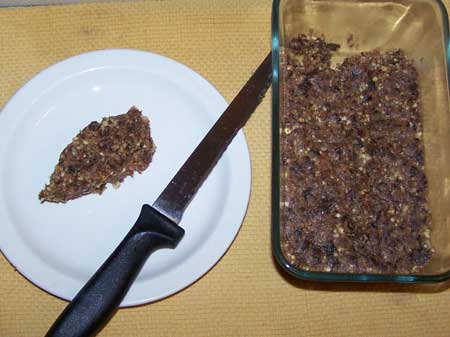 Original Comments
Below, we have included the original comments from this blog post. Additional comments may be made via Facebook, below.
On January 21, 2008, Melissa wrote:
Mmmmmm, those look so good. I'll have to get some of those oils. Yum. Thanks for posting, I love the pictures.
On January 22, 2008, Wendi Dee wrote:
Hi, Melissa. I recommend the peppermint oil over the others if you are only going to sample one of the flavors. It's my absolute favorite!
Jim took the pics and posted the recipe, so I'll be sure to let him know you enjoyed it. Let us know if you make his recipe.
Lots of love to you,
Wendi
XOXOXO
On April 26, 2008, chet wrote:
i just made it, and it's very tasty. I put in some rind of an organic orange instead of the orange oil, which i didn't have anyway. my batch had a lot of agave so i put it in the freezer and hope it will solidify so i can cut it into squares. thank you for a clever recipe!
On April 28, 2008, Wendi wrote:
Chet, thanks so much for stopping by our blog, trying one of the recipes, and leaving a comment!!!
That was a great idea using the orange rind! I bet that tasted great! Oops, sounds like you added too much agave. In that case, I probably would have added some grated raw coconut to help it get a bit more solid. But, the freezer might have worked!!
Thanks, again!
Lots of love to you,
Wendi
XOXOXO
On May 3, 2008, joanna/ RawTn 2 the Core wrote:
Made a tiny batch in the coffee grinder, only had pecans though. Made little balls rolled in coconut. I overdid it a bit on the citrus oil, lol. Def edible though! :D Thanks sweets!
On February 21, 2009, Kris_grl wrote:
oh that looks divine! my birthday's this coming Friday and I'm looking for delicious cake-y recipes...when I saw that this was brownies....ooh YUM!
On February 22, 2009, purejeevanblog wrote:
Kris_grl,

Did you sign up for our free eBooks? There's a delicious brownie-like ice
cream cake recipe that we've given out as a bonus a few days after the
eBooks are received. :-)

Happy birthday to you!

Lots of love,

Wendi
XOXOXO
On March 23, 2009, Marina wrote:
Wow.. Wendi.. I have to try this one.. Thank you, Marina
On March 23, 2009, purejeevanblog wrote:
You are very welcome, Marina. Jim absolutely LOVED making these all the
time. I hope you enjoy them if you decide to make the recipe!

Lots of love to you,

Wendi
XOXOXO
On March 23, 2009, giselle cioraru wrote:
I have a question
Do u soak the nuts first
Giselle
On March 23, 2009, purejeevanblog wrote:
Giselle,

We do not normally soak the nuts first for this recipe. It is much better
for your digestion if you do soak the nuts, however, and then let them dry
again before using them in this recipe.

Even though soaking nuts is best, we don't always do it. We've been
gaining tremendous health benefits without soaking the nuts, but do know
that we could gain even more benefits by soaking them. ;-)

I hope you love the recipe!

Lots of love to you,

Wendi
XOXOXO
On March 23, 2009, MindXdreamz wrote:
Looks super yummy and I'll be trying it ya'll :)
Thanks as always!
On March 23, 2009, purejeevanblog wrote:
Enjoy!!

XOXOXO
On March 24, 2009, Eva wrote:
Thank you very much for this recipe.The step by step pictures are great.I love your emails and I appreciate your warm and friendly personality.Your passion really comes through.I will be making this recipe with raw cacao powder instead of carob because carob makes me nauseous.I will also add a little bit of raw coconut oil so it will slice easily.
On April 26, 2009, patricia wrote:
these "brownies" look wonderful! shall have to give them a try!

meanwhile, wendi, is the recipe available anywhere for eggless salad?
On April 27, 2009, purejeevanblog wrote:
Patricia,

Yes, the recipe is in our free eBook! :-)

Lots of love to you,

Wendi
XOXOXO
On May 5, 2009, Pat wrote:
Thank you for the tasty brownies
On July 19, 2009, a. s. wrote:
just made it for breakfast! yum! veeeeery tastyyyyyyyyyyy!!!

greetings from germany!
On July 20, 2009, WendiDee wrote:
You are very welcome, Pat!

Love,

Wendi
On July 20, 2009, WendiDee wrote:
Greetings all the way to Germany!

I'm so happy you made the recipe and enjoyed it!!

Love,

Wendi
On October 25, 2009, Jemanche wrote:
Hi Wendi

This recipe looks great. I am a newcomer to raw and have been managing to be 50% each day without much effort. This recipe looks and sounds yummy. I am loving the raw food. I have been vegetarian most of my adult life but since changing to green smoothies and alkalizing my body I am actually craving raw food instead of bread and other grains to fill up. I have loads more energy and a much more positive outlook as well. I love your recipes and your enthusiasm. Thanks so much for sharing your story and all the great advice
On January 22, 2010, Wendi wrote:
Chet, thanks so much for stopping by our blog, trying one of the recipes, and leaving a comment!!!

That was a great idea using the orange rind! I bet that tasted great! Oops, sounds like you added too much agave. In that case, I probably would have added some grated raw coconut to help it get a bit more solid. But, the freezer might have worked!!

Thanks, again!

Lots of love to you,

Wendi
XOXOXO