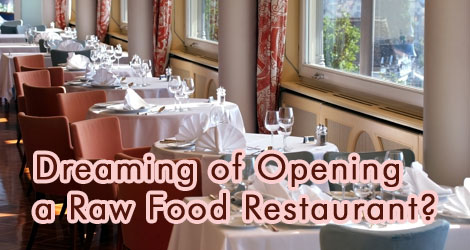 This is Part II of a two-parter on raw food restaurants. Yesterday, we listed a half-dozen challenges that one might face when opening a raw restaurant. Today, we're focusing in on the more enjoyable side -- the potential advantages that opening raw restaurants offer over their cooked-food counterparts.
Let's dive into it... Here are six things we believe are advantages!
Opportunity to spread the word and help people. How many other types of restaurants might actually save lives ! So many people have health issues these days; more do than don't! All of your customers will be made aware of the healing power of raw foods.
Somewhat lower utility bills. Cooked-food restaurants that have to maintain a hot grill all day long use quite a bit of gas and/or electricity to do that. Also factor in the deep fryer (and the oil, and the oil disposal!). The savings on this line-item must be substantial!
The novelty factor. These days, there may not be anything special about a new steak place or a new pizza shop. Those places rely on volume. Other places -- even some cooked restaurants -- can often leverage what we call the "novelty factor." Raw restaurants have a great "high concept" quality about them; that is to say, it's easy to describe them in just a few words to intrigue people. (On the cooked side of things, think of the "Melting Pot" chain. That's a "fondue restaurant" -- very easy to summarize for other people.) The good news is that, in theory, the novelty factor could work in your favor, as just the description alone should draw in the "raw-curious" from far and wide. The pressure is on, though... We imagine that you get just one chance to make a positive impression with that crowd.
Fewer problems with "unwelcome visitors." We're guessing here, but doesn't it seem like, with a cooked restaurant -- in which you're running hot ovens and boiling grease all day long -- you're pretty much broadcasting your existence to the local insect and rodent population in a much more dramatic and pronounced way? Once heated, grease vaporizes and coats all of a restaurant's surfaces -- even the ones that aren't cleaned regularly. So, surely raw restaurants are cleaner environments. (Oh, and speaking of boiling grease... We once wrote of potential health hazards presented by breathing in fumes from boiling oil -- so there could be another health benefit here as well.)
Less weight gain. We're speculating here, too, but wouldn't you imagine that most new restaurant owners probably gain a few pounds for their efforts? At least initially, this must happen. Imagine owning a bakery, for example. Surely, an owner would "test the merchandise" here and there, if only for quality-control purposes. ;-) With a raw restaurant, at least the snacking will be much healthier!
Last but not least, you'll get to meet scores of like-minded people, all day long! Not only will you likely meet all of your local raw foodies, but you'll also connect with thousands of people interested in natural health. We'd also speculate that health-conscious types may also be more loyal to and supportive of their favorite restaurants than other people -- so, the word of mouth factor should also be in your favor. This phenomenon works nation-wide, too! ?When we hear of people visiting cities in which we've enjoyed a raw restaurant, we *always* recommend our favorites to the travelers.
Finally, we felt compelled to note that opening a raw restaurant may not be a black or white decision. That is, not all restaurants that offer raw foods are *exclusively* raw restaurants. We've certainly encountered a number of successful ones that offer a mix of cooked and raw restaurants. (A few that come to mind while writing this are Senbeb Cafe in Washington, D.C., and Help Yourself in Key West, Florida.) This business model might also interest anyone thinking of opening a raw restaurant, as it seems to retain a number of the plusses, while mitigating a few of the "minuses" we've noted over the past two days.
* ? ? * ? ? *
BTW, If you're looking for a raw restaurant to visit, be sure to check out the All Raw Directory, which has a category devoted to raw restaurants. And, if you know of one we do not have listed, you can add it to the list! (The All Raw Directory is a community-run directory; users can add listings at any time for all to benefit from!)
Original Comments
Below, we have included the original comments from this blog post. Additional comments may be made via Facebook, below.
On March 6, 2013, Michelle wrote:
Hi, I landed on this page from a google search. You don't have a link to part one of this post, a link at the beginning or end would have been really helpful.
On March 6, 2013, Michelle wrote:
Please ignore my comment, I found the link