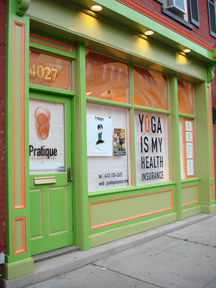 This morning as I was driving from the beautiful Carnegie Mellon University campus to a business meeting outside the city, I had to take a detour at one of Pittsburgh's many bridges. It was a little frustrating because I had hoped to arrive at my destination early enough to grab a green tea at a coffee shop. But, these little delays happen. I'm glad this one did, though, because I soon passed a small yoga studio (called Pratique) where an interesting window decal hangs. It reads: "Yoga is my health insurance."
Many kudos to the clever people at Pratique who apparently crafted this catchy and spot-on message. While this is a raw foods site, not a yoga site, the message is equally apropos here. It essentially means, in my view, that we all have the opportunity to profoundly affect our own health and well being.
In our family, we're currently facing the realistic prospect of taking a literal approach to this concept, dropping formal health coverage! Quite literally, we feel that maintaining a health plan is (almost) a complete waste of money. I'm not posting this to start a debate as to whether those who follow a healthy diet should or should not buy into a plan. (I know all of the related arguments already: Yeah, but what if you cut your arm and need stitches Save that for Facebook or, at least, some other time.) I'm more concerned with reiterating one of our key messages here at Pure Jeevan -- our unwavering ?conviction that physical health and diet are tightly connected. Wendi knows this, I know this, our child knows this, YOU know this... But why doesn't everyone acknowledge it?
As for that sign... On a literal level, I don't believe that yoga, alone, is enough to fully replace one's health insurance. But, I adore that clever, catchy, concise message. If I could momentarily dispense with the cleverness, I might restate it to more fully reflect our view:
"A conscious, intuitive, significantly plant-based diet (custom-tailored to keep our bodies optimally balanced and healthy) along with a concerted effort to continually challenge and engage our intellect, an appropriate level of physical activity (including yoga, for us!), attention to maintaining a healthy and happy emotional existence, and a quest for elevating our spirit through attaining inner peace, practicing compassion, and exploring the mysteries ... is our health insurance."
Well, that's a first draft, anyway. Of course, all that might not fit onto a window decal.
Original Comments
Below, we have included the original comments from this blog post. Additional comments may be made via Facebook, below.
On August 3, 2010, TerriDactyl wrote:
Ha! I went about it backwards, but arrived at the same place.

Due to losing a job in 2004, I lost my health insurance. It's the best thing that ever happened to me. No longer on Welbutrin or Zyprexa for depression, no longer on lorazapam to TRY to sleep. No longer on Nexium for acid reflux. And No longer going to talk therapy to hash, and rehash, and rehash again what a shitty life I had . . . LOL, that makes me laugh now, . . . I had to heal myself (with the help of a dear friend) by taking supplements, NLP, Hypnosis, and finally Law of Attraction/E. F. T./Raw Food! Woohoo!

I certainly have a great life now.

Law of Attraction/E. F. T./Raw Food is my health insurance.
On August 3, 2010, Traceyannemiller wrote:
Terri......Raw and Living Power be with Ye! I have been that route, too, so can fully relate! Truly astounding what medical and insurance companies can do to a person. And quite amazing what helps one to "wake up" to the truth on the Matter or in this case, Platter! I do have health insurance but have not used it in 6 years.......wow, now that is a long time! Just think of the savings that a raw plant diet can make in medical and even FOR the insurance companies. Wonder which one will wake up first? In the meantime, we are having the best of fun getting healthy! All the best to you, Terri!
On August 5, 2010, Kerrymum wrote:
we are self-employed and pay for our family's health insurance out of pocket. we weren't going to go that route since our family of 5 has only been to the dr. 3 times in 7 years; however, i'm very thankful we have insurance. i ruptured the c6 & c7 discs in my neck in june (of all things - hoeing my 1/2 acre organic garden with heavy clay (cement-like) soil). i had emergency surgery 3 days later as i had completely lost the use of my right arm & couldn't lift my head at all. i had no other option & all the raw food in the world was not going to fix it! the bills are now rolling in and i'm very grateful we don't' have to pay all of the whopping $50K+ bills! our share will be at least $15K (which is alot, especially being self employed!), but at least it's not the whole (raw) enchilada! i certainly hadn't planned on rupturing those discs. one tends to think that because i'm a raw vegan nothing bad will happen to my health. trust me ... life happens! just sharing my experience. : )