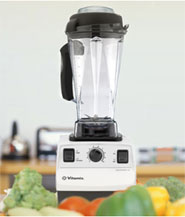 Hey there, everyone! Thanks for visiting Pure Jeevan. We want our welcome article, for now, to be this article on Vitamix blenders. There are certainly a few essential elements (e.g. good knives, cutting boards, a good food processor, etc.) to any raw food kitchen, and one of them is an awesome high-speed blender. Yes, there are many great blenders in the world, and yes there are a few decent top-of-the-line models on par with Vita-Mix. But, at the end of the day, our recommendation is the Vita-Mix (and yes, it's better than Blendtec, in our view). Here's a crazy video Jim did a while back for a Vitamix contest:
Note: That "free shipping" code, below, is no longer active. We'll let you know when we get a new free shipping code. For now, we hope you enjoy the video. :-)
We purchased ours 15+ years ago, and have subjected it to at least daily use (if not many times per day most of the time!) -- and it's still going strong. If you don't understand why a Vita-Mix is different from even a high-end blender from a department store, it's basically the sheer power. These things can pulverize pretty much anything -- time after time, without blowing out the motor. For example, you can make ultra-thick, healthy, raw ice creams day after day all summer long, and the machine will keep on working for years (and, in our case, we're almost ready to say "decades").
We used to be an affiliate w/ them, and are reapplying to be one. For now, we hope you like the video, above.