Today we welcome Devaki, the yoga instructor at Peaceful Valley Ashram, for another episode of Pure Jeevan s Makin? It Monday ?Guest Raw Chef? edition. In this episode, Devaki demonstrates how to make raw Cabbage-Mango salad. We ate the salad shown just after shooting the video. It was quite tasty and refreshing! Here s the recipe:
Cabbage-Mango Salad
1/4 head cabbage, chopped
1 orange, chopped
1/2 mango, chopped
1/4 cup lemon basil, chopped
1/4 cup mint, chopped
3/4 cup walnuts, chopped
juice of one orange
juice of one lime
sea salt to taste (~1.5 tsp)
pepper to taste
Mix all into one large bowl and toss!? Devaki notes that you might also like substituting apple for mango for another tasty variation.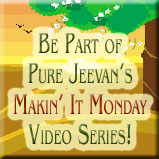 Want to Host a ?Guest Raw Chef? Edition of Makin? It Monday ?
??
We d love to have you do so! Just see this earlier post for the guidelines. We d love to feature you here on our blog, even if this is your first time wearing a raw chef hat!
Original Comments
Below, we have included the original comments from this blog post. Additional comments may be made via Facebook, below.
On August 3, 2009, Patty and Denny wrote:
It looked delicious and it was so nice to see Devaki again.

Lots of Love,
Patty and Denny
On August 3, 2009, raw_lif3 wrote:
Mmmm I'm going to have to try that!

I love the intro music!
On August 4, 2009, Kandy wrote:
Are the walnuts soaked before using? Still learning!!!