So, what did you think about there being snow in New Mexico? Were many of you thinking it was more of a consistant hot climate like I used to think?
We left New Mexico, renewed, and headed to Oklahoma. Here's where we left off yesterday: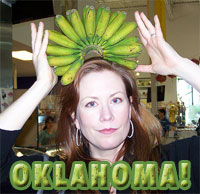 When I arrived in Oklahoma, KDcat and I were surprised with how windy it was. The wind continued to be as severe as it was when we were in Prescott Valley, AZ. We started off our Oklahoma visit in Oklahoma City, where we met the lovely Penni Shelton, of RealFoodTulsa and RawFoodRehab. When Penni heard we were finally headed out on our tour, she asked if we'd be willing to do a talk for her raw food meetup in Tulsa. We agreed, of course, and from there Penni made other plans for some more fun.
Penni contacted the newly opened 105 Degrees raw food culinary training school, located in Oklahoma City, to see if there was a chance we'd be able to stop in and meet some of the staff and do some interviewing. I knew Russell James, one of the better known raw food chefs in the raw community, was going to be teaching at the school and hoped he'd be around so that we could meet him and ask some questions for our Pure Jeevan family members. Well, not only was Russell going to be there, but we were invited by Dara Prentice, a managing partner of 105 Degrees, to be special guests during the graduation celebration of the level one students. What a treat that was!
When Penni and I arrived at 105 Degrees, we immediately saw Russell sitting at one of the tables, having a meeting. I quickly snapped a picture of him and then we had a light lunch while he was in his meeting. Russell was brought over from the UK to share his culinary genius with students at 105 Degrees. If you don't already know about Russell, be sure to check out his amazing raw food web site, The Raw Chef, where he shares many of his beautiful raw food recipes (which are like works of art).
The students wouldn't be ready for us to join them for quite a while, so after our lunch we headed out to an Asian market to see what interesting raw food items we might be able to find. You can see some photos from that visit in the photo set, below. Then we headed back to the school to see what the students were doing on their final day.
I'm sad to say that the wonderful video footage I took of the graduation celebration, interviewing the students and hearing about their creations as they were being assembled, as well as a few separate interviews with Russell to inspire Pure Jeevan family members, didn't turn out well enough to share here on the blog. The sound quality wasn't very good because we were all in one big kitchen, everyone talking at the same time, and it was difficult to pick up on the intended sound for each video. The photos of the students' creations and the celebration that day turned out great, however. So, those are visible in the photo set, below.
The students who were present, Vicki Morrissey, Aimee Dufresne, Austin Cummins, and Andrea Conneely created some incredible recipes. Not only were they beautifully presented to us for tasting, but they were unique and delicious, as well! Each student seemed to have at least one dish that really stood out above their other creations, something that was truly unique and creative, as well as delicious. I was impressed and I could tell that Russell was proud of how much the students had learned during their level one course with him. It was an honor to be invited as a special guest at their graduation celebration. We also met a couple of the Level Two students there that day, Alissa and Helen. If anyone out there is looking to hire a raw food chef, look no further than these incredibly talented students we met.
After the celebration, we headed to the unique apartment Penni rented for us for two nights during our stay in Tulsa, Oklahoma. The apartment building was round, and Penni joked that it was like a building from The Jetsons cartoon. It really did seem quite futuristic looking. Penni showed us around the building, which had a meeting room where I talked with some of the Tulsa Raw Food Meetup group the next day. During the talk, I met a lot of nice people and answered a lot of great questions.
Before leaving, I was able to meet Penni's charming husband, Gordon, and her sweet dogs. Penni and I talked a lot, catching up on what each other has been doing since we were last together at the 2008 Raw Spirit Festival, and we interviewed each other for our web sites. Here's the interview I did of Penni, where I asked her to share what she's been doing with all of you. While I was away from the raw community during most of 2009, dealing with lyme disease, Penni created her own raw community group as well as published a book on cleansing (you can find her "Raw Food Cleanse: Restore Health and Lose Weight by Eating Delicious, All-Natural Foods -- Instead of Starving Yourself" book through many popular online bookstores)! You can learn more about Penni and what she's been doing by watching this interview:
To see the videos in which Penni interviews me, you can click below and be taken to her blog where she shares the videos. It's a candid two-part video in which Penni asks me to share information about a lot of different things relating to health, diet, healing from lyme disease, and more. I hope you'll check it out and let me know what you think!
You can also see these videos, commentary by Penni, as well as clips from my talk that day in Tulsa, by following the links, below, that take you to Penni's Raw Food Rehab membership site:
Wendi Dee & I at 105degrees:
http://rawfoodrehab.ning.com/forum/topics/wendi-dee-i-in-okc-at
Wendi Dee in Tulsa:
http://rawfoodrehab.ning.com/forum/topics/wendi-dee-in-tulsa
Penni Interviews Wendi Dee:
http://rawfoodrehab.ning.com/group/mediaroom/forum/topics/wendi-dee-interview-by-penni
NEXT UP: Family stops in St. Louis, MO, and Geneseo, IL!
We hope you ll check out our generous snack sponsor for the trip, Natural Zing, who made our travels extra enjoyable! They have the best selection of raw food snacks, supplies, and appliances for a raw food lifestyle!
Original Comments
Below, we have included the original comments from this blog post. Additional comments may be made via Facebook, below.
On April 14, 2010, Lisa is Raw on $10 a Day wrote:
Wendi, I just love your blog and your whole website ... and these interviews you have here are wonderful. Yeah, I always picture New Mexico as being hot and dry!
On April 14, 2010, rubyvroom wrote:
This post was so fun to read & watch...I can't wait until I can be with you all again! Tulsa LOVES you, Wendi & KDCat! XOXO..Penni