Isn't it amazing how many different, stunningly delicious salad dressings there are in the world ! It's mind-boggling! There could easily be an entire blog devoted to nothing but raw salad dressings -- and I bet, in the right hands, such a blog could go on 5 days / week for literally years before truly exhausting the subject.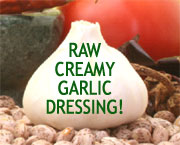 The world simply abounds with good recipe ideas -- and "abundance" is really the mentality you need to embrace when you're doing anything in the culinary world, raw or otherwise. The other side of the spectrum is the "scarcity" perspective, which is when you think, "Oh, I'd love to write a cookboook or create a recipe, but there are already millions of them out there and all of the great culinary creations have been done already."
Well, that's just crazy talk. Sure, there are millions of cookbooks (or uncook-books) out there. And there will be millions more! So, just get into your kitchen and start whipping things together. Don't worry about whether anyone's "done it before." I'm sure, for example, that others have come up with creamy garlic dressings before. But, instead of researching it, we decided to approach the topic fresh. We said, "How would we accomplish a creamy garlic dressing?" The following video shows the delicious result!
Here's the final recipe:
Raw Creamy Garlic Salad Dressing
(serves 2)
1/3 cup Brazil nuts
2 good sized cloves of garlic
1 Tbsp. lemon juice
1/4+ cup water
salt to taste
Process until creamy. Then add whole 1/2 tsp. peppercorns and process again until the peppercorns are well broken up.
Day 5 of raw salad dressing week is coming up tomorrow! What do you think... Should we repeat "raw salad dressing week" again sometime Please let me know, as I'm not sure how excited most people get about salad dressing. In the raw food world, we tend to get a little over-excited about things. Must be all of the high-energy we feel 24/7, eh !
Original Comments
Below, we have included the original comments from this blog post. Additional comments may be made via Facebook, below.
On November 19, 2009, Joanna_Steven wrote:
Hey Jim! This looks delicious, and I love Brazil nuts!

I wanted to say THANK YOU for tasting the dressing and then saying it's good. It drives me nuts how on TV shows they put the food in their mouths and immediately say "Oooh this is sooo good!" Seriously! Who can taste anything in a micro second ! ;) It takes at least a few seconds, in my opinion.
On November 19, 2009, TerriDactyl wrote:
Oh My!! That's easy, uses very accessible ingredients, and sounds absolutely delicious. Will be trying that tomorrow, I think.
On November 19, 2009, Jim Dee wrote:
I know... it really does take a few seconds to evaluate a taste. I even put the video on pause at the end there to go back and add more garlic. Will be heading home to eat this dressing today! I hope it ages well in the fridge. The carrot-ginger one I did on Monday night (Tuesday's blog) really aged well!
On November 19, 2009, Jim Dee wrote:
Thanks! Let me know how it turns out for you. :-)
On November 19, 2009, pwyll wrote:
A big plus for salad dressing ideas---thank you---so many salads, so many possibilities, so little time....
On November 19, 2009, TerriDactyl wrote:
Oh My God!! I couldn't wait and had to try this dressing. This is absolutely the BEST dressing I've ever had! Cooked or raw!

Thank you so much for this. It's so creamy and cheesy.

Terri
On November 19, 2009, Jim Dee wrote:
Great to hear, Pyyll! I'm just now writing back to you to address the tech issues you mentioned. -Jim
On November 19, 2009, Jim Dee wrote:
THANK YOU, Terri!!! :-) I just had it for lunch, too, and loved it. You must be a fellow garlic lover, eh? I know some people can't stand the stuff, but we've always really loved garlic.

Yours in strong odiferousness,
-Jim
On November 19, 2009, TerriDactyl wrote:
I'm Mexican, so I grew up with garlic in everything. I can see that this is going to become my main salad dressing. Since I gave up Blue Cheese, I hadn't found a great one until now.

I can hardly wait to see what you have in store for us, but I doubt the other dressings will top this.

Terri
On November 19, 2009, Errigal_lass wrote:
WOW........that looks wonderful, Jim! Thank you! I just love homemade raw salad dressings and make them all the time! I think your series has been awesome and hope that you will do this again!

The experimenting is what makes this fun, too! Sometimes, mine do not come out like I wish, but the process of tweeking them brings out the creative ingenuity of the chef!
On November 20, 2009, minimags wrote:
I like getting fresh ideas for salads and dressings just to ring the changes and keep inspired so keep them juices flowing!!! I loved KDcats video She looked really confident and cool as a cuke! Can she do another one? I made hers with pomegranate instead of orange as I had a few in - and it tasted refreshing and zingy with the cayenne - I didn't use any Nama Shoyu. Thanks for the emails - you're doing a great job of filling the gap that Wendi has left. I hope she is recovering and re-energising and not feeling guilty
Love, Margaret
On December 21, 2009, Lorraine Lott wrote:
And, thanks for the smaller quantities! Making it tomorrow.
On December 22, 2009, krista white wrote:
yummy yummy! thanx so much for the recipe! i made mine in a blendtec and it turned out great, but i had to double the recipe for it to blend up well. i used it as a dressing for veggie wraps and it was awesome!
On July 9, 2010, Satya ~ FierceWisdom wrote:
Nice -- thanks! Enjoyed this simple recipe, and added just a touch of celery on a whim -- delicious! :)
On October 15, 2010, kitchen exhaust wrote:
i imagine the taste of garlic dressing.it is so nice.
On March 30, 2011, Padric wrote:
Delicious, simple I added a part of a cuccumber