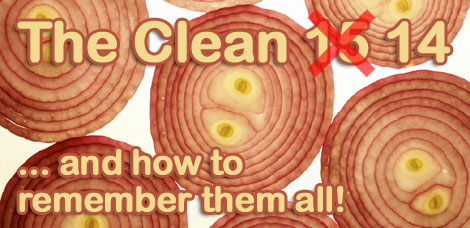 Following up on yesterday's post, today we're going to take a look at the "Clean 15." These are the 15 produce items that, according to research done by the Environmental Working Group, contain the least amount of residual pesticides (even though they're still grown using pesticides).
What this boils down to is: IF you're going to eat conventionally grown produce, these items will harm you much less than those we covered yesterday. So, here's the list, and then we'll try to come up with a sentence to help you (and us) remember everything:
Onions
Avocados
Sweet corn*
Pineapple
Mangoes
Sweet peas
Asparagus
Kiwi
Cabbage
Eggplant
Cantaloupe
Watermelon
Grapefruit
Sweet potato
Honeydew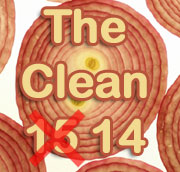 * We inserted the asterisk after corn because, even though it may rank well in terms of residual pesticides, we're not going to include it on our version of this list.
So, as far as Pure Jeevan is concerned, it's really the "Clean 14." We'll explain why tomorrow.
For now, let's continue with the mnemonic device.
Only (Onions)
A (Avocados)
Perfect (Pineapple)
Mate (Mangoes)
Shares (Sweet peas)
A (Asparagus)
Kiss; (Kiwi)
Cuddle (Cabbage)
Every (Eggplant)
Chance (Cantaloupe)
We (Watermelon)
Get, (Grapefruit)
Sweet (Sweet potato)
Heart! (Honeydew)
Okay, so the sentence is: "Only A Perfect Mate Shares A Kiss; Cuddle Every Chance We Get, Sweet Heart!" (Just be careful walking through the produce aisle alone, mumbling that, as it may draw some unusual attention.)
Original Comments
Below, we have included the original comments from this blog post. Additional comments may be made via Facebook, below.
On May 18, 2011, monkie wrote:
haha! I might actually be able to remember this one :D
On June 14, 2011, Lekshe wrote:
Thanks for the easy way to remember it. :)
On June 24, 2011, Wendi wrote:
You're very welcome, Lekshe! I hope you've been using it when you're shopping! :-) Love, Wendi XOXOXO