Jim here...Well, something awful happened today at Pure Jeevan, something utterly shocking to any raw foodie on the planet -- our Vitamix container broke! I know, I know... breathe with me: Deep breath in... deep breath out. There, that's better. It's going to be okay, I just know it!
Here's what happened:? The agitator assembly (the metal part at the bottom that connects to the blades inside the container) wore out. It blew some kind of bearing or something, lost its internal oil, and started making an infernal noise when we blended our morning smoothie. It was pretty clear we'd blended up our last elixir in that container.
So, you might be wondering why in the world I would preserve such an event for posterity under the heading "Thankful Thursday." After all, if our Vitamix blender container broke, doesn't that cast the Vitamix company in a rather unfavorable light
The answer:? Not at all!
People (esp. those new to raw foods) ask us all the time what kind of blender to purchase. I always say, "Get a high-quality high-speed blender!" Yes, they cost an arm and a leg, but they're real workhorses. For example, you can't blend yourself up a thick concoction of fresh coconut, frozen berries, dates, and nuts using a $35 Wal-Mart special. ?(Or, rather, you could probably get away with that for a month or so, if you don't use it every day. But, you're going to burn up the motor in no time, and have to pony up another $35 quickly.) Plus, you won't enjoy the same level of blending you get with a high-speed blender.
Wendi called the Vitamix company to make some inquiries about a replacement. Guess what she learned ? We purchased our Vitamix in 1999. It's lasted a decade! And the expensive part -- the motor -- is still going strong. We did a little math to help show you just how amazing this machine is:? From 1999 to about 2006, we figure we used the Vitamix at least once per day -- for everything from making smoothies and ice creams to making nut butters and (before we went raw) milling our own wheat.Since getting into raw foods, we figure we've averaged at least twice per day. In all, that's upwards of 5,000 uses without a hitch!
So, it's actually not a mar on Vitamix's name to report our first equipment failure; in fact, it's a bragging right. Show me another blender that can withstand that kind of rigorous use! So, thank you, Vitamix Company, for providing raw foodies with a means to produce the foods we love so much.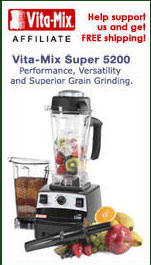 Finally, I want to add one final thing (and, honestly, this was not the reason I wrote this article). For a number of products, we're registered an affiliate. This means that, by clicking on some equipment ads and links on our site, you're helping to support Pure Jeevan's efforts to serve the raw and living foods community. We're an affiliate with Vitamix -- and very proud to be one. So, if you know you'd like to purchase a Vitamix, consider clicking on the graphic here to do so. But, where ever you purchase it from, know that we're enthusiastic supporters of this fine company. Aside from our chef's knives and cutting board, it's the most used piece of equipment in our kitchen.
Original Comments
Below, we have included the original comments from this blog post. Additional comments may be made via Facebook, below.
On April 2, 2009, MindXdreamz wrote:
So it's not under the 7 year Vita-Mix warranty any longer BUT I bet they gave you a great deal on the replacement container! Yes, I'm a huge advocate for Vita-Mix as well... and an affiliate. Primarily I chose the Vita-Mix because it's Made in the USA! How many products can you vote with your dollars on nowadays that can say that? Not many!
I'm from the very part of the country too, where the Vita-Mix is made and I know the folks there in Ohio take great pride in their production of this fine American product.
Love ya'll!
sheila
On April 2, 2009, debbiedoesraw wrote:
Indeed, you do have loads to be thankful for. The VitaMix is our Third blender, first Jack La Lanne (strong but don't bother.. it is not effective at blending), Blendtech used.. an ungodly noise and I hated the programmed keyboard deal.. it became haunted and turned on when it felt the spirit move it! scared the pants off me so, we FINALLY got the message the universe was sending... and I love my Vitamix more than I care to say, really, I love it!!!!!!
good luck with your new carafe, may it go another decade!
deb
On April 2, 2009, Debbie wrote:
I'm still saving up to purchase a Vitamix and the Excalibur...hopefully this year I will get to make the plunge! Sorry about your loss, and thank you for sharing the information. I like hearing about good investments! :)
On April 3, 2009, raw in canada wrote:
Hi,

I was wondering if the replacement part available? Or did you have to get a brand new machine? (I'm assuming/hoping that as an affiliate they gave you what you needed instead of selling it to you). I've also been thinking about getting one, though I have a great food processor and an okay blender. I used to have a juicer (a braun - for almost 20 years until I gave it away) and was wondering if you think the vita-mix works like a juicer, too? I've wondered about that and the texture of the juice because of the pulp (which I understand is important to take in, but does it make the juice kind of lumpy and less liquid-y
Thanks for all your and Wendi's writings. They are incredibly helpful to me as I alter my lifestyle into a healthier, raw one.
Thanks!
On April 3, 2009, Jim Dee wrote:
Thanks, Sheila! Yep, we got a small discount for being an affiliate. After 10 years, I wouldn't expect much from *any* company. It really is a great product. I hope to be using the same base/motor for many decades to come!
On April 3, 2009, Jim Dee wrote:
Hey Deb! I've never tried Blendtec blenders, though I've watched some of their really entertaining "Will it blend " vids on YouTube. If you haven't seen those, they're worth a look -- very funny as they blend up weird things like light bulbd and aluminum cans, just to prove how tough blendtec blenders are. -Jim
On April 3, 2009, Jim Dee wrote:
Hi RawDebbie! Funny, I read "Sorry about your loss" and chuckled a little. It's truly funny how we rely on certain appliances so much. Truly, all we really "need" is a knife and cutting board. But, the Vitamix, Excalibur, and juicer (ours is a Champion) really do make life easier. When you buy your Excalibur, btw, I recommend the larger 9-tray model. It's not too much more, and you'll come to appreciate the extra capacity. -Jim
On April 3, 2009, Jim Dee wrote:
Oh, sure... it was just the container that broke, not the base unit w/ the motor. The Vitamix web site sells various parts and accessories alone, so that's another reason to go w/ Vitamix. As an affiliate, you do get a small discount, but not free stuff. (We didn't expect a free replacement.)

We could have purchased a repair kit for our container, actually, instead of buying a whole new container. However, after 10 years of heavy use, we figured a whole new container is called for. We thought we might crack ours or something if we tried to just fix the blade assembly. Plus, nowadays, they're made without Bisphenol A (commonly known as BPA), which is known health risk. (It is suspected to disrupt the encodrine system. More here: http://en.wikipedia.org/wiki/Bisphenol_A#Health... .) So, we were glad to get rid of our old one, which probably had BPA.

The Vitamix DOES work well as a juicer. However, to alleviate the lumpiness problem you mentioned, you need to blend your stuff with some water, and then strain the results through a nut milk bag. I like to juice greens this way from time to time, as it seems quicker than using a juicer. If I'm interested in having the fiber of something, I'll usually blend whatever it is into a *smoothie* in the Vitamix. However, if I want a juice (no fibre), I'll use the Champion or the Vitamix/nut milk bag combo.
On April 3, 2009, sandra wrote:
My vitamix 3600+ is at least 20 years old and the only part I've ever replaced is the rubber seal around the lid. It's no 5200 (only 1 hp), but heck, I bet it'll last me another 20 years! If I ever buy another blender, it will definitely be a Vitamix!
On April 3, 2009, Tina wrote:
Vitamix blenders totally rock. Bummer about it breaking down on you...for the simple reason that now you don't have it for a few days. Oh my! I can't imagine the torture in that!!! Funny how we come to depend on it daily, eh? I love mine...use it for everything too.

Thanks for the smile today....
On April 4, 2009, Lannette wrote:
LOL! I had the same thing happen to my old metal vitamix container. My sweet husband who knows how vitamix dependent I am had the money saved up for a new one with all three containers! Gotta love that man. The old one? We're reconditioning it for our son. I could do without a refridgerator before I'd do without my vitamix!