Visit our other site!

Free Raw Foods eBooks -- or, order printed, bound copies!
Kevin Gianni's CD!
| | |
| --- | --- |
| | Pure Jeevan has obtained a *limited number* of Kevin Gianni's early CD release, God Loves Guinea Pigs. These were rescued from a secret stash from the Gianni archives! They were made long ago, before Kevin's Renegade Health Show days -- true "raw food world collector" items. Get yours now before they're all gone! |
---
We wish for you a love- and life-filled
vibrant existence.

What Happens
When You Eat
Living Foods?
Compare pics from two diets we've followed:
(Read my story on our "Meet Pure Jeevan" page.)
---
Largely Vegetarian:

Raw Vegan: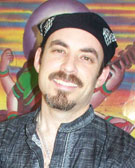 (Read my story on our "Meet Pure Jeevan" page.)
DISCLAIMER: Using this site constitutes your full agreement with this disclaimer. The information at PureJeevan.com is made available for educational purposes. PureJeevan.com assumes no responsibility for any adverse effects or consequences that might result from using information presented here or on any site we link to. The information presented on our site (1) is not medical advice, (2) is not intended as medical advice, and (3) is not intended to propose a cure for any disease or condition. We recommend consulting your health care professional prior to starting any medical treatment. PureJeevan.com shall have no liability whatsoever for any direct, indirect, special, or consequential damages relating in any way to the use of any information presented on our site or any site we link to. Any links to outside sites do not constitute our endorsement of products or services found on those sites. COPYRIGHT © 2009 PureJeevan.com. All graphics on this site were either self-created, used with permission, or taken from royalty-free web design sites.