These are the same books that have been downloaded literally THOUSANDS of times (for free) from our web site. Anyone may download these eBooks, Raw Foods 101 and Raw Food Recipes, for free by simply joining our mailing list (same as signing up for our newsletter).
While they are available there for free download, we are offering them for sale here as printed, bound books. These are full-color, double-sided, beautiful books, 8 1/2" x 11" in dimension, bound with the common "GBC" type binding, which is really great for regular use in the kitchen!
Raw Foods 101 is 26 pages long, filled with all of the essential information you'll want to know about the raw and living foods diet.
Raw Food Recipes is 44 pages long, covering 26 easy, delicious, nutritious raw food recipes, complete with pictures and easy-to-follow preparation instructions!
Pure Jeevan eBooks Also Available in Print!
Books to Change Your Life!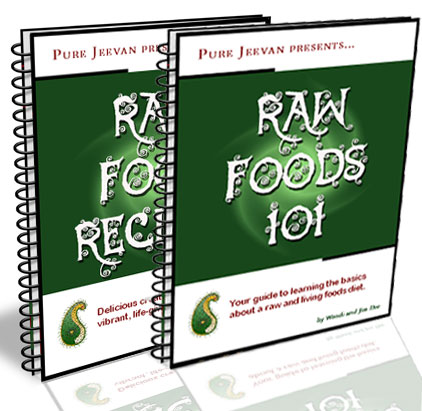 When your life changes so drastically, when you've stumbled across an answer to your lifelong questioning of how you can lose weight and become healthy, you just can't keep what you've learned to yourself.
Before we cover what's in these two amazing books, spend a minute learning more about the kind of transformation we're describing. If a picture is worth 1,000 words, then perhaps this VIDEO (now viewed by more than 6,000 people worldwide!) of Wendi Dee's results can demonstrate the POWER of RAW.
Wendi lost and easily (effortlessly!) kept off nearly 100 pounds. She has dedicated herself to spreading the word and helping YOU! With a following of over 2,000 people worldwide, Wendi is inspiring others on a daily basis! She repeatedly receives emails from individuals stating that she has helped save their lives.
So, read these amazing books, bookmark this web site (and the PureJeevan blog!), and join thousands of others whose lives are being touched and changed by the story and experiences she openly shares with everyone!
Here are the books you're purchasing right now:
1. RAW FOODS 101: Your guide to learning the basics about a raw and living foods diet. 26 pp.
Table of Contents:
About Pure Jeevan
About This eBook
What Is Raw, Living Food?
What Isnít Raw Food?
Why People Are Adopting This Lifestyle
The Science Behind It All
I Want to Do This! What Do I Need to Do?
What Is a Typical Raw Food Meal?
Tools of Going Raw
What to Expect When You Go Raw
But What AboutÖ
Important
Resources
2. RAW FOOD RECIPES: Delicious creations filled with vibrant, life-giving energy. 44 pp.
Table of Contents:
Breakfasts
Pomaceous Morning
Vivid Bites with a Lemony Embrace
Milky Swizzle
Dreamy Coconut Elixir
Luscious Fruity Shiver

Salads
Refreshing Cauli-Mint Medley
Cosmic Kale Awakening
Pure Jeevan Bed of Greens
Lemony Luminous Surprise
Summerís Simplicity

Lunches
Tahini Genie Spread
Crunchy Purpleicious Chiposity
Infinite Layers of Inspiration
Garden Gourmand
Rouge Revitalization
The Herbalistís Cauldron of Flavor

Dinners
ďBakedĒ Rice and Veggie Bites
Night at the Symphony
Radical Rawvioli
Rawsome Refried Reward
Veggie Stir Donít Fry

Desserts
Sweet Apple Awareness
Mellifluous Pudding
Pumpkin Preponderance
Jimís Dangerously Famous Brownies
Wendiís Wonderful Treat

Resources
These books -- widely praised by the raw food community -- are full color, beautifully formatted, include helpful photos, lay open flat for easy use in the kitchen, and are filled with loving inspiration!
Again, these are the same exact books that anyone can download for free by simply signing up here.
When you make a purchase here, you are buying printed, bound copies of these life-altering books, and also supporting Wendi Dee and her mission to help spread the word about this amazing way of losing weight and regaining health!
The price for the set is $15. Shipping within the U.S. is $4.95, outside the U.S. is $10.95 (for most places -- please contact us if ordering from outside the U.S.).
We wish for you a love- and life-filled
vibrant existence.

What Happens
When You Eat
Living Foods?
Compare pics from two diets we've followed:
(Read my story on our "Meet Pure Jeevan" page.)
---
Wendi's husband,
Jim Dee:
Largely Vegetarian:

Raw Vegan: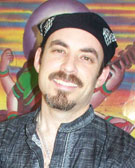 (Read my story on our "Meet Pure Jeevan" page.)
---
Wendi lost approximately 100 pounds. Jim lost 60 pounds. Each has kept the weight off permanently and effortlessly. They have each recovered from multiple illnesses, including:
high blood pressure
obesity
arrhythmia
edema
life-long debilitating migraines
depression.
Also included in these books are URLs for web-based resources that can demonstrate how others are using raw to fight even more serious conditions!