Visit our other site!


(podcast posted at the link)
Free For You
Pure Jeevan strongly feels that information about gaining health by eating pure, raw/life foods should be free to everyone. Therefore, please take advantage of this free information section. We've created this special collection for all of you! If you have questions, don't hesitate to email them to us (at WendiDee [at] PureJeevan [dot com]); we'd be happy to help you if possible.

Other than the Raw Foods 101 button, below, we feel our holistic newsletter and online blog (journal) will be tremendously helpful if you are interested in learning more about raw foods and making other positive changes in your life.

Be sure to take advantage of all these great resources. We'd love to hear from you if you've been inspired, have read something that you agree (or even disagree) with, or simply if you just want to say hello to let us know you've found our site and took some time to read what we're sharing with everyone.

With lots of love to all of you,

Pure Jeevan
Link Buttons
Descriptions
Sign up to receive our holistic newsletter! It will arrive in your email box filled with inspiration for transforming your body, mind, spirit, and emotions. If you aren't already doing so, embracing all aspects of your life will fill you with direction, peace, purpose, and pure love. As a bonus for signing up, you'll receive our two free eBooks, Raw Foods 101 and Raw Foods Recipes!
Check out our blog and sign up to receive automatic notices for every time we add new content. On the blog you'll find regular weekly features, random posts about our lives and raw food adventures, and so much more.
Raw Foods 101 is a free eBook by Pure Jeevan. To receive it, just subscribe to our newsletter, above!
People all over the world are claiming that they've been healed from just about every disease by simply consuming raw, uncooked foods. Find out all about their Stories of Success! (links to the "Stories of Success" page at Pure Jeevan's "All Raw Directory)
WARNING! If you aren't already aware that raw food consists of more than simple chopped up veggies and salads, you are about to be shocked! The recipes section contains many photos, showing that raw can be so much more than you ever imagined. (Pic links to recipes on our blog. See also the Recipes section of Pure Jeevan's All Raw Directory!)

Pure Jeevan also has published an amazing 40-page full-color eBook entitled Raw Foods Recipes. To receive it, along with our Raw Foods 101 eBook, just sign up for our newsletter, above.

During her transition into raw and most of her first year of consuming 100% raw foods, Wendi wrote about her journey. Here you'll find what she shared during that journey. Some of it is personal, but she shares it to possibly help and inspire others.
View Pure Jeevan's photo gallery, hosted on Flickr (links open new windows).
Our archive of interviews we've conducted with others, as well as interviews others have done with us.
Our archive of Know Your Food episodes, our ongoing video series.
Check out Pure Jeevan's raw food and related videos on YouTube! (Opens new window.)
More raw foods information than you will believe! The All Raw Directory is, essentially, the entire raw and living foods world, organized! It's a community-run site, so be sure to add new links for raw food information! Categories include:



Please don't forget to sign up for our holistic newsletter and online blog! They are free and filled with inspiration if you are interested in learning more about raw foods and making other positive changes in your life. Plus, we get super excited every time someone subscribes! It makes our time and effort in creating this site very rewarding.
Lots of love to you!
XOXOXO
What Happens
When You Eat
Living Foods?
Compare pics from two diets I've followed:
(Read my story on our "Meet Pure Jeevan" page.)
---
Largely Vegetarian:

Raw Vegan: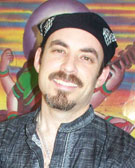 (Read my story on our "Meet Pure Jeevan" page.)
DISCLAIMER: Using this site constitutes your full agreement with this disclaimer. The information at PureJeevan.com is made available for educational purposes. PureJeevan.com assumes no responsibility for any adverse effects or consequences that might result from using information presented here or on any site we link to. The information presented on our site (1) is not medical advice, (2) is not intended as medical advice, and (3) is not intended to propose a cure for any disease or condition. We recommend consulting your health care professional prior to starting any medical treatment. PureJeevan.com shall have no liability whatsoever for any direct, indirect, special, or consequential damages relating in any way to the use of any information presented on our site or any site we link to. Any links to outside sites do not constitute our endorsement of products or services found on those sites. COPYRIGHT © 2009 PureJeevan.com. All graphics on this site were either self-created, used with permission, or taken from royalty-free web design sites.